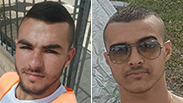 Nachman Itach, one of the three young men who disappeared in the Kinneret last week, was laid to rest Tuesday afternoon in the presence of hundreds of people in Givat Shaul in Jerusalem.

Itach's body was discovered Monday along with that of Liron Karadi.

Police said that in the search for the third missing person, Itamar Ohana, another body was found in the area in which the searches were focused. The body is being transferred to the police base in Degania for identification.

During the funeral, Nachman's uncle eulogized him, saying, "Death came in through the window, like a thief. Where did this blow come from? I have already buried a brother and a few nephews. We hope that the Holy One, blessed be He, will stop this decree.

"Every minute we tried to find out more information. It is a shame to lose boys like this. My heart is with the family. It is difficult."

Similarly, Liron Karadi's funeral was also held Monday at a cemetery in Or Akiva.

Dozens of volunteers and rescue officials are still conducting searches for Itamar Ohana, who is also believed to have drowned in the stormy weather.

Shimon Ohana, Itamar's father, said that he believes his son's body will also be discovered shortly. "He always went (to the beach) just with us. This time, he wanted to celebrate his birthday with his friends on the beach. We let the leash go and now we've had a disaster."

The mother, Rachel, added she couldn't fathom her son had drowned; "he was a combat soldier… when they told me he had drowned, I said that wasn't possible. He was a combat soldier, he was strong. He wouldn't have drowned."

The father concluded by thanking everyone, saying "we have a special people… they have hearts and they give their all."