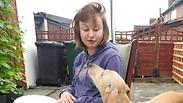 Tamimi's victim, Hannah Bladon
The 57-year-old murderer of British exchange student Hannah Bladon was described as "violent and aggressive" in an expert opinion provided by the Kfar Shaul Mental Health Center in Jerusalem.

Before Jamil Tamimi committed his deadly stabbing attack Friday on Jerusalem's light rail, he had been hospitalized in Kfar Shaul. During that time, he engaged in violent behavior, a fact that was noted in the written opinion.

Despite this assessment, Tamimi was discharged from the hospital after a month without any restrictive terms. He was transferred into supportive housing in northern Israel. It was from there that he set out on Friday morning for Jerusalem to carry out the stabbing. He received permission for the trip from supportive housing's administrator.

Police are set to look into the conduct of the employees in the mental health institutions to ascertain why Tamimi was left at large without any supervision, despite his violent behavior. The institutions are overseen by the Ministry of Health.

Tamimi has a criminal record, which involves a conviction in 2011 for sexually assaulting daughter in. He also has disturbing episodes in his psychiatric past that include attempted suicide by swallowing a razor blade.

The Ministry of Health has yet to provide a comment on the matter.

Following a psychological evaluation, Tamimi was found on Tuesday to be fit to stand trial.

On Friday morning, the supportive housing residence in the north notified Tamimi's family that he had left the premises, to which one of the family members responded that they wanted nothing to do with him.