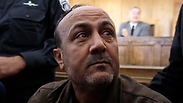 Haaretz columnist compares Barghouti to Irgun and Lehi fighters
In an acrimonious interview with Minister of Tourism Yariv Levin, Haaretz columnist and Army Radio interviewer Ravit Hecht draws angry reactions by comparing convicted murderer and terrorist Marwan Barghouti to fighters from the Irgun and Lehi.
An Army Radio interviewer drew comprisons between Marwan Barghouti—a convicted Palestinian terrorist who murdered Israelis and is currently leading a hunger strike in an Israeli prison—and Irgun and Lehi fighters.
Ravit Hecht, a Haaretz columnist, made the parallel toward the end of an interview with Minister of Tourism Yariv Levin, which dealt almost exclusively with Barghouti, when he sardonically said: "You know the history of Israel and our existence. Did you know that all the underground freedom fighters were heinous murderers in the eyes of the other side? You don't see any parallels here?"
Levin responded by saying, "That is a terrible comparison and it is shameful and disgraceful that an Israeli broadcasting station even ask this type of question."
Levin's sharp response then prompted Hecht to double down, saying, "Why? You said you were in favor of freedom of expression?"
Once again, Levin responded pointedly, accusing the interviewer of ignorance and of fabricating history.
"This shows total ignorance, a total distortion of history. There is a difference of heaven and earth between these disgraceful murderers and our people who were really heroes, who fought a real occupying army and not the IDF, which defends us all in our own country."
(Translated and edited by Fred Goldberg)