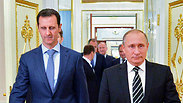 A senior IDF officer asserted on Wednesday that the recent sarin gas attack against civilians in Syria was carried out on the orders of senior officers in the regime Syrian President Bashar Assad.

The official based these remarks on the Israeli intelligence on the attack, adding that Iran had lost its hegemony in Syria, which was replaced by Russian hegemony.

He also spoke about developments taking place in Syria over the last few months, according to which Assad has gained confidence after taking back control of territories in the western part of the country. Among other things, this emboldened Assad to fire anti-aircraft missiles at Israel in a failed attempt to intercept IAF planes that attacked an advanced weapon shipment destined for Hezbollah.

The IDF official noted that the IDF's policy of preventing weapons smuggling from Syria to Hezbollah would continue despite the anti-aircraft incident.

However, he said, Israel would not respond to the sarin gas attack. "Our utilitarian position is that where the superpowers are taking responsibility, we have no reason to jump in, but to present an intelligence picture and to continue humanitarian aid to the injured in the Golan," he said.

In the past, Assad had 1,200 tons of chemical warfare material installed unto rockets, most of which were destroyed, leaving only a few tons.

"The sarin attack shows Assad's frustration and distress, and the fact that there is no desire to undertake ground maneuvers in Syria, not by Hezbollah, Russia or the Iranians," the official noted. "I can't really see how matters will be settled in Syria, a possible solution could be the establishment of a federation or confederation on an ethnic basis as it was in the Balkans."

According to the official, the coordination mechanism the IDF created with Russia was also adopted by other countries operating in Syria, such as Turkey and the United States. The mechanism also includes reciprocal visits to Jerusalem and Moscow, once every two months, by the heads of the Operations Directorate in both armies.

According to the officer, the Americans briefed IDF Chief of Staff Gadi Eisenkot and the military secretary of the prime minister, Brig. Col. Eliezer Toledano, two hours before the attack on Assad's army.