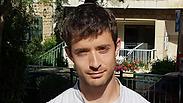 Tzur Goldin
Photo: Ofer Meir
Hadar Goldin's twin decries MK's 'disgraceful' treatment of his mother
After a heated exchanged in the Knesset between Dr. Leah Goldin, whose son's body was captured by Hamas after he was killed in Gaza, and MK Miki Zohar, Hadar's brother Tzur slams the prime minister 'who needs to provide solutions, not excuses.'
Tzur Goldin, whose twin brother Lt. Hadar Goldin's body is being held by Hamas, slammed on Thursday the "disgraceful" behavior of legislators towards his mother during a Knesset discussion on Operation Protective Edge.

Dr. Leah Goldin was invited to speak in front of the Knesset's State Control Committee as it discussed a report by the state comptroller on the 2014 war in Gaza in which her son, Hadar, was killed.

She accused Prime Minister Benjamin Netanyahu of turning her and her family "into an enemy of the people," prompting Likud MK Miki Zohar to chime in, saying "It's not okay what you are saying, and it is an exaggeration."

Dr. Goldin responded with anger. "You don't answer. Don't answer! I wasn't asking you. I don't even know your name. You insolent man. Be quiet!" she shouted as she threw a cup of water at him.

This was not the only incident during the discussion, which saw other bereaved parents exchanging harsh words with Likud MKs.

In an interview with Ynet, Tzur Goldin argued that the prime minister needs to provide solutions rather than excuses.

Netanyahu, he said, constantly tells the family that 'the State of Israel is committed to doing everything' to bring back the bodies of his brother and fellow soldier Oron Shaul, "when in actuality we see the abysmal reality of (Israel's) relationship with the strip."

Another platitude Goldin said the prime minister often repeats is 'I understand how you feel, I'm a bereaved brother myself.'

"It's an excuse. Other than the fact there's nothing to it and it doesn't provide any answer to the strategic problem on the public's agenda, it also absolves him of responsibility," Goldin said.

Netanyahu, he said, did not want to pressure Hamas so as to not provoke another war. "It's an absurd that on the other hand, you sit and boast that in Protective Edge you led to achievements that deterred Hamas, while on the other hand, you contradict yourself and say that every small thing could lead to the next war," Goldin said.

"It's been three years now that Hadar and Oron are being ignored in such a blatant way," Goldin continued

He asserted the comments his mother made during the Knesset discussion on Wednesday "were not angry or outraged words. They reflected the reality accurately. The reality is that the Israeli government—as well as the previous government—is blatantly avoiding taking steps to pressure Hamas in order to bring back Hadar and Oron."

Zohar himself apologized, telling Ynet that "I had no intention or desire to offend Mrs. Goldin. The only thing I said was that I couldn't agree with the claim that we turned the bereaved families into the people's enemies. This is something we really didn't want to do and have no desire of doing... I should've remained quiet and allowed Mrs. Goldin to say what was on her heart, no matter how difficult it was for me to hear. I've made the wrong decision, and I regret that."

But Tzur Goldin rejected the apology, saying "MK Zohar needs to apologize to the citizens of Israel, not to the bereaved families."

Goldin further decried the "abysmal reality in which Hamas prisoners dictate the agenda with hunger strikes, and we reward them instead of making their conditions more strict," adding that Israel "is giving up on achievements that IDF soldiers fought for in order to create a 'fool's calm.'"

Goldin said he and his family believe that "through dialogue and discourse with the public's representatives ... we'll achieve a long-term result." He stressed that the family's struggle "is not against the government and is not emotional, but rather based on values and accurately reflective of reality."

He called on the government to remove the motivation of terror organizations to kidnap Israelis, saying "we strongly believe that if massive uncompromising economic and political pressure is put on Hamas—something that is not being done today—we won't just be able to bring back Hadar and Oron, but also prevent future kidnappings."