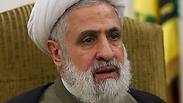 Naim Qassem
Photo: Reuters
Hezbollah's deputy leader Naim Qassem said Thursday morning that the terror movement had sufficiently deterred Israel, convincing its leaders not to launch a war on the northern border.

Qassem added that Israel's fear of incurring high casualty tolls in any prospective war also accounts for its decision to avoid a renewal of hostilities.

Speaking in an interview with the Lebanese Hezbollah-affiliated daily Al-Akhbar, Qassem was asked if the Lebanese-based movement had any fears of a summer offensive.

"All the indications point to the fact that Israel is deterred. It has not taken a decision to act in a renewed aggressive manner against Lebanon at this stage," he said.

"It doesn't flow from its morals, but rather from its understanding that any war against Lebanon is a guaranteed loss for Israel," he confidently stated.

Hassan Nasrallah's second in command also promised that any military adventures waged by Israel would yield no "positive results, either on the ground or in the political arena. I add to this Israel's confusion and weakness of the home front to deal with any war, and its waiting for results in the developments in Syria."

Asked about how developments in Syria could play out in the broader context of the conflict with Israel, Qassem said that if any solution took into account Israel's interests, many problems would be solved for it, including war.

This was further proof, he said, that "political and territorial considerations preclude the possibility of an Israeli war in Lebanon."

In yet another projection of confidence, Qassem repeated the mantra that his organization was prepared for any confrontation.

"The resistance is at the peak of its readiness. If Israel surprises, despite the political analysis, it will be a foolish and reckless step," he warned. "The level of Hezbollah's readiness enables it to withstand any possible war, both numerically and in terms of means and goals."

Qassem was also asked whether he thought the latest threats made by his boss that Hezbollah could strike an ammonia tank situated in the Haifa Bay, and against Israel's nuclear reactor in Dimona, would increase the likilhood of the outbreak of war.

He responded by saying that before the speech was delivered in which the threats were made, Israel made public declarations about the prospects of war which stemmed from domestic considerations rather than any concrete decision to launch a war.

Therefore, Nasrallah's speech was intended, he claimed, to confront Israel with sensitive issues, and issue a warning that fanning the flames via media outlets and in the political domain could bring about a war for which Israel is still not prepared and does not want at this stage.

"Their silence after Nasrallah's speech proves that their declarations were of a political nature rather than a prelude to war," Qassem concluded.