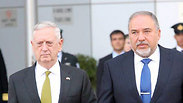 Mattis and Lieberman
Photo: Motti Kimchi
US Secretary of Defense James Mattis said that he was 'committed to Israel's security" on Friday afternoon during a joint press conference with Defense Minister Avigdor Lieberman in the IDF's headquarters in Tel Aviv.
Mattis began his remarks by stating his respect for Israel and its people, reaffirming his committment to ensure that genocide is never committed against the Jewish people again.
"I'm honored to return to Israel once again to show my respect for this country and for the Israeli people. I am keenly aware that we stand together this morning, just a week before the Holocaust Rememberance Day, and we share a common determination to never allow such horrific event to reoccur," he said.
Lieberman and Mattis hold press conference in Tel Aviv (צילום: מתן טורקיה)
"Cooperation between the countries continues. I came from Saudi Arabia and other visits in the region," he said. "In the meeting with Lieberman, we promised to establish the strong connection between Israel and the United States."
Turning to the issue of the ongoing Syrian civil war, Mattis said: "There can be no doubt in the international community's mind that Syria has retained chemical weapons in violation of its agreement and its statement that it had removed them all. There is no longer any doubt."
He also warned that they would be "ill-advised" to use them again.
Addressing Iran's repeated threats against Israel, Mattis said that his country recognized the need to tackle its aggression.
"In addition to our campaign to defeat ISIS, we also recognize the need to confront the destabilizing activities of Iran. Iran continues to threaten Israel and its neighbors with ballistic missiles...through proxies and surrogates, including Lebanese Hezbollah, a terrorist organization helping to keep Assad in power in Syria."
Asked whether the Syrian military had moved its combat aircraft to a Russian base in Latakia, Mattis said: "They have dispersed their aircraft, no doubt. They have dispersed their aircraft in recent days."
Meeting between Libermand and Mattis (צילום: מתן טורקיה)
It is the third such meeting Mattis has had with Lieberman since becoming the US defense secretary. He is set to meet later with Prime Minister Benjamin Netanyahu.
"During this meeting we had another in-depth conversation sharing a keen appreciation for the security situation facing Israel and our friends in the region and further refining the practical steps we are taking together to defend our shared security interest," he reflected.on the meeting.
Lieberman declined to comment on news reports that Israel believes Syria still holds between one ton and three tons of chemical weapons.