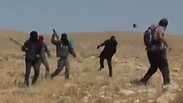 Some 15 masked men attacked representatives of the left-wing Ta-ayush organization with clubs and stones Friday, while it was accompanying Palestinian shepherds in the Binyamin region.

Eyal Raz, an activist from the Ta'ayush movement—which seeks to encourage Palestinian-Israeli cooperation and put an end to Israeli control in the West Bank—was present during the violent scenes.

"It began when we were accompanying the Palestinian farmers who came to graze their flocks, and a group of about 15 boys with sticks came up to our group with big stones and clubs. We tried not to react and calm things down," he said.

Raz expressed his frustration with the lawlessness displayed by the youths. "These people feel that they can do what they want, and it is a very frightening situation," he said.

"Five activists were wounded, one of them in the head," Raz continued. "This is a feeling that cannot be explained shortly before filing a complaint at the Binyamin region.

The police response has yet to provide a response on the matter.