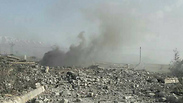 Al-Jazeera network reported Sunday that Israel attacked a military base belonging to the Syrian regime on the outskirts of Quneitra, according to pro-Assad militia forces.

The Al-Miyadin network reported that three were killed and two wounded in the bombing on the Naba Fawar base.

According to the report, Israeli military aircraft launched a strike on the base at around 6am. A pro-Assad radio station reported that at 5am, explosions were heard in the camp.

It was later established that an ammunitions cache exploded, causing the death of three soldiers and leading to confusion about whether the boom was indeed caused by Israel.

While the IDF refused to comment on the reports, the alleged attack comes on the heels of three main changes which have been recorded in the area over recent months.

Assad recently expanded the strength of his forces in the center and the northern sector of the Golan Heights in an effort to repel rebels from the area. In addition, the arrival of Hezbollah terrorists in the area adjacent to Israel's northern border with Syria has caused further concern in the Israeli political and defense establishment.

The third significant development came with the redeployment of United Nations Disengagement Observer Force (UNDOF) inspectors, at Israel's request, in the buffer zone between the Syrian side and the Israeli side of the Golan Heights (east of the security fence) for the first time since they left the area for fear of their lives three years ago.

In February, the Israel Air Force allegedly attacked Syrian army outposts in al-Katif in the suburbs of Damascus, according to reports in Lebanon.

Last month, the IDF reported that it has shot down one of numerous anti-aircraft missiles launched by Syria at Israeli F-15 fighter jets that had hit designated targets within Syria.