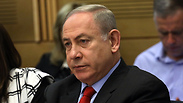 Netanyahu at the Knesset discussion
Photo: Ohad Zwigenberg
Netanyahu: I regret MKs' heated exchange with bereaved parents
Four days after Likud MKs David Bitan and Miki Zohar clashed with parents of fallen soldiers during a Knesset discussion on Operation Protective Edge, the prime minister, who was present at the meeting, finally addresses issue, saying 'An immediate apology was necessary and it is good that this was done.'
Prime Minister Benjamin Netanyahu expressed regret on Sunday for the heated exchange between Likud MKs David Bitan and Miki Zohar and bereaved family members of fallen soldiers during a Knesset discussion on Operation Protective Edge last week.

"As Prime Minister and the son of a bereaved family, I heard what was said last week in the Knesset in the heat of debate. I regret that these remarks were made," said Netanyahu, who was present at the discussion but chose not to comment at the time.

"An immediate apology was necessary and it is good that this was done," he added.

He stressed to the bereaved families that "the people of Israel are united around you, who have lost what is dearest to you, for the security of Israel. We know, I know, that the independence of Israel entails an unbearably heavy price and we are all with you in your immense pain."

"On the eve of the days of remembrance and independence, we must again remember that national unity is the most important thing. This is the source of our strength and also the foundation of our future," the prime minister added.

The Knesset State Control Committee discussion on the state comptroller's recent report on the 2014 war in Gaza quickly dissolved into a shouting match between members of the prime minister's Likud party and bereaved family members, as well as between coalition and opposition MKs.

Addressing one of the central contentions of Shapira's report that the cabinet was not sufficiently updated on the tunnel threat, committee Chairwoman MK Karin Elharar (Yesh Atid) began the discussion by asking Netanyahu about the extent to which the cabinet was involved in the decision-making process during the 2014 Gaza incursion.

Much to the outrage of Likud MKs Yoav Kisch and Zohar, who immediately jumped to the prime minister's defense, insisting that the prevalence of leaks compelled Netanyahu to conceal paramount information from the porous cabinet.

"If there were no leaks, things would have been shared with the cabinet," the two shouted, setting the tone for much of the discussion that then ensued, as Illan Sagi, a bereaved father, told them to "respect us and sit quietly."

Illan's son, Staff Sergeant Erez Sagi, was killed in a battle in Nahal Oz after Hamas terrorists penetrated an IDF outpost via its tunnel network.

But tensions quickly mounted as Illan Sagi's appeals to restore some semblance of order to the discussions escalated into a bitter diatribe as he vented his frustration at his son's death.

"I paid the price of my son. Where were you all during the war when my son was killed in a tunnel?" he yelled.

Shortly after, Sagi recalled an incident in which he said he stood outside the prime minister's office holding a sign when Coalition Chairman David Bitan approached him and said "It won't help you," a charge which gave rise to a heated exchange between the two.

"You liar. I never spoke to you," Bitan retorted.

Later in the discussion, Dr. Leah Goldin, whose son Lt. Hadar Goldin had been killed in action and his body had been captured by Hamas, laid into the government, saying that "My son has gone from being a heroic fighter to a debt of a body (that the state needs to pay). Shame on you all."

Tensions mounted when she accused the prime minister of turning "us into an enemy of the people," prompting Likud MK Miki Zohar to intervene. "It's not ok what you are saying and it is an exaggeration."

Turning to Zohar, Mrs. Goldin said: "You don't answer. Don't answer! I wasn't asking you. I don't even know your name. You insolent man. Be quiet!" she shouted as she threw a cup of water at him.