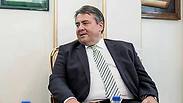 Foreign Minister Sigmar Gabriel said on Sunday said that though Germany considers its ties with Israel to be deep and "unbreakable," it will continue to press for a two-state solution.

"With respect to the Middle East conflict, our solidarity with Israel also means working to ensure that Israel and Palestine can live side by side in dignity and peace," Gabriel said in a statement released as he departed for the region. "Only a two-state solution will be sustainable."

Gabriel's visit, his first since becoming foreign minister in January, comes as German concerns about Israeli settlement building have dragged ties to their lowest point in years.

German governments have made strong relations with Israel a top priority ever since World War Two, going to great lengths to make amends for the killing of six million Jews by the Nazis.

Gabriel will visit the Yad Vashem Holocaust memorial on Monday and meet with Prime Minister Benjamin Netanyahu and Israel and Palestinian government officials, his spokesman Martin Schaefer told reporters on Friday.

"We do not believe that the current situation is sustainable," Schaefer said. "We think it's necessary to make another attempt to revive talks and negotiations in the framework of the Middle East process."

"We remain interested in seeing the two parties ... make serious efforts to find common ground and a solution based on the two-state solution," he said.

Lack of progress on the Israeli-Palestinian conflict poses a long-term threat to Israel, Norbert Roettgen, head of Germany's parliamentary foreign affairs committee, told broadcaster Deutschlandfunk on Sunday.

He said relations between the two countries remained deep and important, but also cited "grave differences of opinion."

"All those who care deeply about Israel ... are sad, even depressed, about how entrenched everything is, and how much Israel is relying on its military-police superiority and is not developing any perspectives for the situation," he said.

Roettgen said Israel was profiting from tensions elsewhere in the region, which had shifted the focus away from the Israeli-Palestinian issue, as well as from in-fighting among Palestinians.

He added that though this situation held some short-term security advantages, the underlying situation was growing worse and more negative, and that "This is aa real threat for Israel in the longer term."

German Chancellor Angela Merkel in March canceled a summit with Netanyahu that was due to occur in Jerusalem in May, and said she was worried that Israel's building of settlements in the occupied West Bank was undermining progress towards a two-state solution.

German officials said privately that the main reason for the cancelation was anger over Netanyahu's plans to accelerate settlement building in the West Bank and east Jerusalem, and to legalize thousands of homes built on privately-held Palestinian land.

Peace talks between Israel and the Palestinians have been frozen since 2014 and settlements are one of the most heated issues. Palestinians want the West Bank and east Jerusalem for their own state, along with the Gaza Strip.

Ceremonies took place across Germany over the weekend to mark Holocaust-related events, including the liberation of the women's concentration center in Ravensbrueck.

A new report issued on anti-Semitism worldwide by the European Jewish Congress said many members of Jewish communities in Germany still perceived anti-Semitism as a major threat, despite a drop in such incidents in official statistics.

An estimated 250,000 to 500,000 Jews live in Germany. Though attitudes toward Jews have reportedly improved dramatically since the 1990s, the new report said growing extreme right-wing and populist movements were fueling open anti-Semitism.