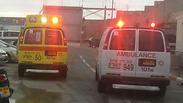 MDA at the scene
Photo: MDA
A female soldier was stabbed at the Qalandiya checkpoint Monday morning, north of Jerusalem.

The female assailant was neutralized at the scene, while the soldier—an NCO in the Civil Administration—was lightly wounded in the upper body.

The woman who carried out the stabbing attack was identified as Asya Kabaneh, 41, from the village of Duma in the Nablus area.

Asya, who is a married mother of 9, said during investigation that for a long time she has been in conflict with her husband, who threatened to deport her to her family in Jordan.

The investigation also revealed that she had fought with her husband last night over the education of their children and as a result, she decided to carry out an attack in order for the security forces to shoot her because—in her words—she was fed up with her life.

Police report that the attacker arrived at the checkpoint and approached security forces, claiming she wanted to ask a question. At that point, she apparently pulled out a knife that was concealed in her bag and stabbed the soldier.

Police and security guards on the scene then neutralized her. The injured soldier was treated lightly by MDA and evacuated to the hospital.

The attack Monday morning on Holocaust Remembrance Day comes on the heels of another stabbing attack in Tel Aviv in which an 18-year-old Palestinian from Nablus stabbed several pedestrians in a hotel on HaYarkon Street.