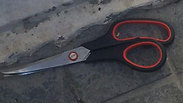 Scissors used by one of the attackers
Photo: Israel Police
The Police Investigation Unit and State Attorney Shai Nitzan decided on Monday to close the criminal investigation against a police officer who opened fire at two Palestinian teenage girls who carried out a stabbing attack with scissors in Jerusalem in November 2015.

According to the investigation's findings, the two teenage girls were seen brandishing the scissors and seeking passersby to stab with them. One of them succeeded in stabbing an elderly man who was seen escaping the scene bleeding from his neck.

A police officer who arrived at the scene shot them, killing one and wounding the other.

The police officer, a sapper, said in his questioning that he happened at the scene of the attack by chance, got out of his vehicle with his weapon drawn, and ordered the two girls to stop.

Despite his warning and his drawn weapon, the two teenage girls continued coming near him, brandishing sharp instruments that at the time he did not identify.

This prompted the police sapper to open fire at them from a short range to neutralize them, as he believed they were suicide attackers determined to cause harm.

Investigators accepted the officer's version that he felt his life and the lives of those around him were in danger, leaving him no choice but to respond to the threat immediately.

The officer's version was supported by eyewitnesses who were on the scene and also testified that they felt the two girls posed a clear and immediate danger to their surroundings.

While no criminal charges will be filed against the officer, the investigative materials were transferred to the relevant authorities in the Israel Police to consider professional ramifications.