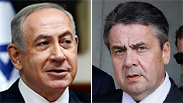 Netanyahu and Gabriel
Photo: AP, AFP
Tensions escalate: PM cancels meeting with German foreign minister
Following Netanyahu's last minute cancellation of the planned talks in Jerusalem with Sigmar Gabriel, tensions are on the rise as the German minister refused to accept Netanyahu's call; the meeting had been cancelled after the latter insisted on meeting with far-left groups Breaking the Silence and B'Tselem.
Prime Minister Benjamin Netanyahu has decided not to meet with German Foreign Minister Sigmar Gabriel Tuesday, according to a government official, following Gabriel's insistence on meeting with the far-left organizations Breaking the Silence and B'Tselem during his visit to the area.
Reports of Netanyahu's decision first surfaced in the German tabloid, 'Bild.' They were later confirmed by the government spokesperson who said Netanyahu was upset that Gabriel had refused to comply with his ultimatum not to meet with Breaking the Silence, a group that publishes testimony, often anonymous and unverified, about alleged daily crimes and misconduct former soldiers say they witnessed being committed in the West Bank.
The crisis is apparently escalating as sources stated Netanyahu wanted to speak with the German foreign minister on the phone to explain his position, but Gabriel refused to accept the call.
"I didn't want to enter the political game in Israel, but it's not a disaster, my attitude and that of Germany will not change," Gabriel told reporters at the King David Hotel in Jerusalem. "I have been here many times, I have met Prime Minister Netanyahu many times, I have good relations with him, so I was surprised by the cancellation, and I am very sorry about the cancellation. It is important to meet with non-governmental organizations and to speak with government institutions as well as with non-governmental organizations."
Israeli leaders oppose the group's work, citing the anonymity of the claims and its outreach efforts to foreign audiences, which are often funded by foreign governments.
Earlier in the day Gabriel said it would be "regrettable" if the meeting were canceled.
The Israeli official spoke on condition of anonymity because he was not authorized to speak on the issue with the media.
Gabriel, whose government remains one of Israel's staunchest allies in Europe, told reporters that he was not informed officially of a possible cancellation.
"I can't answer your question because I don't know if it is true that the meeting is not taking place," he said during a news conference with the Palestinian prime minister in the West Bank.
"I only know this from the media, and I don't know the motives," he said. "If it is the case, someone will explain it to me at some point."
Earlier, the foreign minister told Germany's ZDF television that it was "completely normal" to meet with Breaking the Silence and B'tselem, another group critical of Israeli policies.
Gabriel, who is also Germany's vice chancellor, said it would be "unthinkable" to cancel meetings with Netanyahu if the Israeli leader traveled to Germany and met government critics there.
"It would be regrettable if there were a cancellation," he told ZDF "But it's not as though it would be a catastrophe for me. I have been in this country so often and have a lot of friends, and it wouldn't change my relationship with Israel."
He noted that a meeting with President Reuven Rivlin was also planned.
"You can't get a proper and comprehensive picture in any country on earth if you only meet in government offices," added Gabriel. "I can't imagine that we would not do such things in the future just to get government appointments."
An Israeli official said that Netanyahu's position remained the same. "It's a choice between Breaking the Silence and the prime minister," said the official, speaking on condition of anonymity because he was discussing a diplomatic matter.
The Israeli official said Gabriel was welcome to meet B'tselem. Amit Gilutz, a spokesman for B'tselem, said there were no plans to cancel Tuesday's meeting.