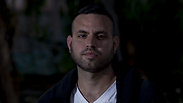 Gal Eliyahu
Photo: Yuval Chen
'I grew up with bereavement and depression,' says singer who lost father in terror attack
Gal Eliyahu, whose father Yosef Eliyahu was murdered by Palestinian terrorists in 1985, is going to sing his song 'Father' at the state Memorial Day ceremony, in front of Prime Minister Netanyahu, who decided to release his father's killers.
It was the summer of 1985, on a Sunday. Yosef Eliyahu, a vice principal in a school in Afula, spent the day teaching shop class to teenage students, many of whom come from poor families. At 1pm, he told the principal he was heading out and that he would return in time for the last class of the day at 3:30pm.

Leah Elmakayes, a 19-year-old soldier who serves as a teacher at the school, went with the 35-year-old Eliyahu on a hike in the Gilboa Mountain area, but the two never returned.

After four nerve-racking days, during which their families—aided by hundreds of volunteers—searched for them ceaselessly, Eliyahu and Elmakayes's bodies were found in a cave in the Gilboa Mountain.

The Shin Bet investigation found they were brutally murdered, and two suspects were apprehended a day later: Othman Abdallah Bani Hasan and Haza'a Mohamed Sa'di from the village of Arabbuna. The two confessed almost immediately upon capture, telling investigators that Bani Hasan shot Eliyahu, while Sa'di strangled Elmakayes. The two were tried, convicted and given two life sentences.

Four years ago, as part of another peace effort led by US Secretary of State John Kerry, the two were released after having served 28 years as a gesture of goodwill to the Palestinians, a decision made by Prime Minister Benjamin Netanyahu and his government at the time.

On Memorial Day, Eliyahu's youngest song, Gal, will find himself singing a song he wrote, titled "Father," at the state ceremony in front of Prime Minister Netanyahu, who freed his father's murderers.

"I write while I sing," Gal tells Yedioth Ahronoth in an interview ahead of the ceremony. "One day I was walking around in Ramat Gan and started humming 'Father, you are a hero / father, you are so far away,' and then I went 'And sometimes the heart breaks,' and it started to rain. I was very emotional, and I wrote the song in one go. When I finished writing it, I once again felt like I was alone."

Why?

"I have no memory of my father. Just the photos and what I've been told about him: that he was modest, generous, kind. That's why I wrote 'Father, you're a hero / but also very far away / I don't know who you are / my entire life I feel like I've been missing out / that all of the kids have fathers, and I don't.' I keep trying to think who I'd be if I had gotten to grow up with my father, and I have no answers."

How did you feel when the terrorists who murdered you father and Leah Elmakayes were released?

"It was very sudden. One day I heard they wanted to release him, and two days later it happened. It felt like, 'Have you killed and also triumphed?' Everything I went through in this life—the fears, the trauma, the anxieties I grew up with—and all of a sudden you find out that the person who murdered your father is going to be free, while your father is in his grave, dead.

"A few hours later, I saw Mahmoud Abbas raising (the terrorist's) hand and saying: I won. They're both smiling and happy, and his family is celebrating the release.

"It makes me angry. How can a country release a man who murdered? After all, it's obvious he would do this again. There are those who say that he still spent 28 years in jail, but I've been living with my family and my mother's depression for 30 years now. I've been living without a father my entire life. That's a bit harder, don't you think?"
The pain that's left
Gal, 33, was only two years old when his father was murdered, the youngest child after three sisters and a brother.

"I was born to bereavement and depression," Gal says. "No one talks about the life of families affected by terrorism after the attack; the talk is only about the attack itself. So you should know—the families continue dealing with the consequences every day. What happened in our family is that my mother became depressed. The reality I was raised in was that, at a young age, I had to convince my mother to eat and drink. I've always asked why I deserved this, why I had to deal with the pain that's left. I'm a bit envious when I see families where everything is okay."

Following the murder, rumors started spreading around Afula. "When they saw my mother on the street, people would say, 'Here's the one whose husband cheated on her and got murdered,'" Gal recounts. "No one knows, to this day, if there really was an affair between my father and that girl. It caused friction and fights between my father's family, who were convinced he didn't cheat, and my mother's family, who were convinced he did."

The tensions reached a boiling point during the father's funeral. Yaniv, Gal's eldest brother, fell onto the grave in grief. One of the uncles made to pick him off the ground and to do so, he removed his gun belt and handed it to the mother, Dalia. During the already tense funeral, this act was seen as a threat and quickly escalated into a big commotion.

Dalia decided to move to Nahariya with her children. "The goal was to get away from my father's family, including grandma and grandpa and all of the aunts and uncles. We didn't speak for years. When we had grown up, my mother agreed for us to renew contact with them. But we don't talk about this anymore; it's kind of a Pandora's box. Today, the entire family has a great relationship. My mother and my grandmother speak, but the issue of the betrayal remains a mystery."

In an interview with Yedioth Ahronoth several days after her husband's body was found, Dalia said, "I don't believe there was something between them. Leah was a good friend of our family. A serious girl who even babysat the children once."

One of Elmakayes's brothers came to the Eliyahu home during the shiva (the Jewish seven-day mourning period) to pay his respects. His arrival caused a lot of sadness among those present and his silence spoke volumes about the tragic situation the two families found themselves in.

"My mother didn't say too much," Gal says now. "We repressed it all these years because she thought it would hurt me, but when we had a chance to talk about the topic, she gave me the impression she didn't think he cheated. One day, my school principal asked to talk to my mother and asked her 'How are you getting by, with your husband having cheated on you?' So my mother, who is a very smart woman, told her, 'You're focusing on the question of whether the man cheated or not, instead of focusing on the fact a man's life had ended, a soul had been lost.'"

Do you think she truly believed he didn't cheat on her?

"I think the uncertainty about what really happened led to a lot of thoughts that affected her deeply. She kept repressing it. It's not easy to live with that question lingering ... I don't have an answer to what he did there with that girl. It's a riddle none of us could ever solve."

What did your mother tell you about your father?

"He was her whole world ... she told me that the night before he was murdered, she told him, 'I want you to promise me something.' And he immediately responded, 'I know what you want. I won't replace you for anyone else.' The next day he was murdered."

Gal says singing has been his dream from a young age. "Some kids want to be astronauts when they grew up, I always wanted to be a singer. When I was six, I joined the school choir. I feel this is my cure; all of the songs I wrote have been about my parents and their relationship. Thanks to music, I'm not alone. I feel like it's healing me."

After his army service, he worked as a singing waiter in Eilat, got a degree in communications, and then went to the US, where he recorded a song in the same studio as Christina Aguilera. Three years ago, he returned home and decided to try his luck in Israel. He filmed a music video for the song "Being Free," which he wrote during his army service.

Listen to Gal Eliyahu's song 'Father' (in Hebrew)

Several months ago, Gal contacted Culture and Sport Minister Miri Regev, who put him in touch with the producers of the Memorial Day ceremony. "They heard my song and sent me a message saying it was hair-raising and very moving, and several days later they told me 'You'll sing at the ceremony.'"

Are you excited?

"Yes, it's a dream come true. It's important to me to convey a message with my songs, that despite the murder and what I went through, I don't hate anyone. I'm a loving person. To me, everyone's equal."