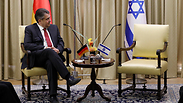 Gabriel meeting with Netanyahu
Photo: EPA
German FM meets with left-wing NGOs away from media spotlight
After Prime Minister Netanyahu made good on his threat to cancel their meeting, German Foreign Minister Sigmar Gabriel met with Breaking the Silence and B'Tselem; 'it is not clear to us what the prime minister is afraid of,' says B'Tselem head.
After his meeting with Prime Minister Benjamin Netanyahu was cancelled over his planned meeting with left-wing NGOs, German Foreign Minister Sigmar Gabriel decided to hold a low-key meeting with Breaking the Silence and B'Tselem representatives without media coverage.
Gabriel ignored an ultimatum from Netanyahu, who called on him not to meet with the representatives of the NGOs, leading the prime minister to cancel their planned meeting at the last minute.
Gabriel also refused to answer a phone call from Netanyahu after their meeting was cancelled, and did not comment on his meeting with the NGOs.
"Our message is the same message we said in the Security Council, the message we are telling the Israeli public and we will not stop saying—the occupation must end and cannot be hidden, not from Israelis and not from the world," said B'Tselem Executive Director Hagai El-Ad. "This is the truth and these are the facts, and it is not clear to us what the prime minister is afraid of."
Yuli Novak, former Executive Director of Breaking the Silence, hosted a Meretz event in Tel Aviv attended by MK Tamar Zandberg and Meretz Governing Assembly President, Uri Zaki.
"The last 48 hours have managed to surprise even me," Novak said. "It's so crazy that a prime minister behaves so unreasonably by any standard. A bull in a diplomatic china shop is a compliment to Netanyahu's conduct, and that's certainly not what is expected of an experienced politician."
The German news site Spiegel called the cancellation of the meeting "diplomatic humiliation" and attempted to analyze why Netanyahu took the step he did.
Spiegel noted that Gabriel has met with Netanyahu several times in the past and despite differences in opinion, the meetings were always conducted in a pleasant atmosphere—the two even smoked cigars together.
Earlier Monday, in a meeting with Israeli press, Gabriel said, "It is just inconceivable. If we would invite Netanyahu to Germany and he would want to meet with NGOs that are critical of the government and we would say 'if you do that, we'll cancel your meeting,' people would say we were crazy."
Gabriel estimated that he was caught in an internal Israeli conflict, but Spiegel noted that the cancellation was possibility revenge after Chancellor Angela Merkel canceled a scheduled intergovernmental meeting, explaining the scheduling difficulties.
The German foreign minister himself refused to comment on this speculation.
Gabriel is known as a critical politician who is not afraid of confrontation and tends to prefer honesty to diplomatic delicacy.
On a visit to Iran following the signing of the Iranian nuclear deal, Gabriel criticized Tehran for its role in the Syrian Civil War and the humanitarian crisis there. Making matters worse, he also called on the Islamic republic to recognize Israel's right to exist, saying, "Only then there may be normal relations between Iran and Germany."
Although he was considered a senior partner in Merkel's unity government, he has not hesitated to criticize her sharply.
Gabriel is remembered in Germany as someone who came out publicly against his own father—a convicted Nazi— and severed ties with him.
(Translated and edited by Fred Goldberg)