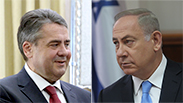 Prime Minister Benjamin Netanyahu (R) and German Foreign Minister Sigmar Gabriel
Photos: Marc Neiman/GPO, Alex Kolomoisky
Netanyahu's constant search for enemies is beyond pathetic
Op-ed: B'Tselem and Breaking the Silence's activity abroad may be wrong, but it is legal. By preventing foreign guests from meeting with these organizations, the prime minister is doing exactly what they have been criticized for—he is getting foreigners involved in the internal Israeli debate.
I asked former prime minister Ehud Barak on Tuesday what he thought about Prime Minister Benjamin Netanyahu's refusal to meet with German Foreign Minister Sigmar Gabriel over the latter's meeting with B'Tselem and Breaking the Silence. His response was two minutes of pure sarcasm.
"The prime minister," Barak said, "raised Israel prestige among the nations when he physically tried to prevent the German foreign minister's dangerous, fateful meeting. We have been blessed: On the eve of Israel's Independence Day, we learned that we are safe and protected from the enemy."
Is there anything to add? Barak is right. So is President Reuven Rivlin, who did not join this stupid boycott and went ahead with his own a meeting with the German foreign minister; and so is Opposition Chairman Isaac Herzog, who followed in the president's footsteps. It's good to know that there are still people with discretion in Israel's top political echelon.
Activity by Breaking the Silence and other left-wing organization abroad is wrong, in my opinion. This type of activity is required in countries where there are no democratic rules of the game. In Israel—in its first 69 years, at least—all the political, legal and media channels are open to these organizations. The fact that they are largely fed by donations from foreign governments and organizations does not play in their favor. Israel's governments' policy should be decided by Israelis—not by foreigners.
Nevertheless, the activity of these two organizations is legal. Their battle for human rights can be appreciated, they can be criticized and even boycotted, but foreign guests cannot be prevented from meeting with them. Netanyahu's sin is similar to the left-wing organizations' sin: He is getting foreigners involved in the internal Israeli debate.
Netanyahu's constant search for enemies is beyond pathetic. What has the B'Tselem organization ever done to him that justifies a crisis with the most important government in Europe, and the one which sympathizes with Israel the most? What has Breaking the Silence done to him?
We saw how Netanyahu turned a marginal issue like the Israel Public Broadcasting Corporation into an existential crisis. Now, Netanyahu is exporting that same paranoia into Israel's foreign relations. He is crying wolf so often over nonexistent dangers, that in the end the world's governments will stop taking us seriously—and that's the real danger.