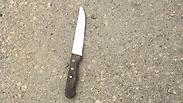 Knife used by the terrorist
IDF soldiers thwart second stabbing attack in Nablus area in two days
Both attacks took place outside the Samaria Territorial Brigade's base near Huwara; in both cases, troops shot and neutralized a knife-wielding assailants, with no injuries to the Israeli side; attacks carried out by cousins from Balata camp.
Soldiers for the Golani Brigade's 51st Battalion thwarted a second attack in two days carried by cousins outside the Samaria Territorial Brigade's base on Wednesday.

The two cousins from the Balata camp near Nablus ran towards IDF troops stationed in the square outside the base while wielding a knife in the early afternoon of Wednesday and Tuesday.

The soldiers shot and neutralized both terrorists, who were both taken to the Beilinson Hospital at the Rabin Medical Center in Petah Tikva in serious condition.

In both instances, no one was hurt on the Israeli side.

Earlier Wednesday, IDF soldiers arrested a 24-year-old Palestinian woman at the Gilbert Junction in Hebron who approached them while brandishing a knife. She confessed in her questioning to planning to carry out a stabbing attack.