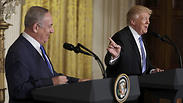 Trump and Netanyahu
Photo: Reuters
Israel and the United States are currently discussing a potential visit by US President Donald Trump to the Jewish nation in late May.

Israeli representatives and a US envoy will meet on Thursday to begin talks the subject.

The White House has shown great interest in having Trump visit Israel, which will be his first official visit as president.

When Prime Minister Benjamin Netanyahu visited Trump in the White House in February, he invited the new president to Israel, noting the importance of doing so at the start of his term in office, unlike former President Barack Obama who passed over Israel during his first visit to the Middle East—something which drew much criticism at the time.