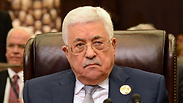 PA to halt payments for Gaza electricity supply
Decision by Mahmoud Abbas to stop covering tabs for electricity provided by Israel to the Hamas-run Gaza Strip comes amid an ongoing power struggle with the newly installed Hamas leader Yahya Sanwar; reports of President Trump's planned visit to the region next month to kick-start a new peace initiative could also account for the decision, as Abbas seeks to demonstrate a rejection of extremism.
The Palestinian Authority (PA) has informed the IDF Coordinator of Government Activities in the Territories (COGAT) that it plans to immediately cease all funding for the electricity Israel supplies to the Gaza Strip.

The announcement comes against a background of an escalating power struggle between PA Chairman Mahmoud Abbas and Hamas in Gaza, led by Yahya Sanwar.

Moreover, the decision was made in light of US President Donald Trump's upcoming visit to the region next month, and reports that he is expected to kick-start a new US-led peace initiative.

Israel supplies the Gaza Strip with electricity through 10 power lines that produce 125 megawatts, about 30% of the electricity required in Gaza. The cost of electricity consumption in Gaza is estimated at NIS 40 million (around $11 million) a month—a sum which Israel deducts from the Palestinian Authority taxes.

If the PA refuses to cover Gaza's electricity bill, payments can also be made through the international community or private entities.

Responding to the latest announcement by Abbas, Hamas Deputy Leader Khalil al-Haya warned that his new apparent attempt to break the movement would fail.

"Gaza is an explosive barrel and Abu Mazen (Abbas) will not be able to exert additional pressure on it because it will explode in his face and in all directions."

Al-Haya added that "increasing pressure on Gaza will have the opposite effect, and we will not yield to Abu Mazen's pressure. He will fail."