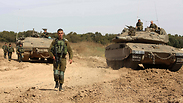 IDF tanks destroyed a Hamas position in southern Gaza on Thursday morning after shots were fired just minutes earlier at IDF engineering force while carrying out routine security-related activities near the Gaza border fence.

There were no immediate reports of injuries of damage.

After returning fire, the IDF launched an investigation into the origins of the gunshots and the IDF Spokesperson's Unit issued a statement saying "The attack was carried out in response to an earlier attack on an IDF force that was engaged in routine security work near the security fence in the southern Gaza Strip."

The incident comes shortly after The Palestinian Authority (PA) informed the IDF Coordinator of Government Activities in the Territories (COGAT) that it plans to immediately cease all funding for the electricity Israel supplies to the Gaza Strip.