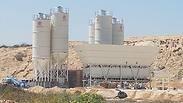 World Bank report: 'Gaza faces financial crisis'
World Bank issues a report after having visited the Palestinian-controlled territories, concluding that external financial aid is insufficient to alleviate the PA's economic problems; according to the report, significant budget changes must be introduced by the PA itself.
A special report by the World Bank published on Wednesday found that the Palestinian Authority's (PA) financial situation is worrying, saying that it should cut costs and salaries and adding that the energy crisis might lead to an economic disaster.

Written after members of the World Bank visited the Palestinian-controlled territories, the report concludes that external financial aid is insufficient to alleviate the PA's economic problems, claiming that significant budget changes must be done by the PA itself.

The report is set to be presented at the Ad Hoc Liaison Committee in Brussels on May 4 during a meeting between policy leaders deciding on financial aid for the Palestinian economic development.

"The Palestinian economy cannot create jobs and income," said Marina Wes, World Bank's Country Director for West Bank and Gaza. According to her, "30% of Palestinians are unemployed and more than half of Palestinian youths are without occupation.

"Gaza is facing an economic disaster. There is need for concentrated efforts by all sides to bring forth a real change, to push economic growth and to moderate hope and chance for the Palestinians, especially the youth."

The report states that the PA has a funding gap of $800 million, and therefore it should reduce its expenditure on salaries and pensions and increase revenues from the local tax system. There is also a need to take action to improve the investment climate and competitiveness and help new companies enter the market.

The report also refers to the energy crisis in the PA. According to the economists, the inability to answer the need for electricity could lead to a human and economic disaster. Therefore, investments by the private sector in the energy sector are required, but the investments will not be realized unless the Palestinian Authority and the Israeli government create an enabling environment.

"Gaza is facing power outages in cycles of 8 hours. During peak hours, Gaza residents have only 4 hours of electricity during the day, and this situation has become the norm and leaves the residents of Gaza without electricity for most of the day. The planned power cuts harm vital services and create a humanitarian crisis for the two million residents of Gaza," Wes said.

The PA should carry out reforms to ensure that payment commitments to power suppliers are implemented, in order to encourage private investments in the energy sector. This is especially important in the Gaza Strip in order to allow for the construction of a high-voltage line from Israel that will provide a solution to the energy crisis.