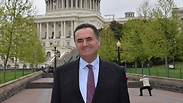 Likud minister proposes US-Israel plan to expunge Iran from Syria
Transportation and Intelligence Minister Katz presents US officials with a five-point plan, calling for Washington's recognition of Israeli sovereignty in the Golan Heights, and vamped up sanctions against Iran and Hezbollah; Katz urges joint US-Israeli action to prevent Tehran from forming a front on Israel's northern border.
Transportation and Intelligence Minister Yisrael Katz (Likud) suggested during his visit to the US that the Trump administration formulate a five-point US-Israeli memorandum of understanding (MOU) document to remove Iranian influence from Syria.

The document consisted of a series of key points designed to tighten the noose around Iran and its proxies in order to prevent its aggression in the region, particularly through the terror organization Hezbollah.

One of the points in the MOU included American recognition of Israeli sovereignty over the Golan Heights—an area captured by Israel in the 1967 Six-Day War.

Other points included a general opposition to Iran's permanent military presence in Syria, the imposition of sanctions on Iran until it stops military and financial aid to Hezbollah and the terrorist organizations in the region, and the intensification of the sanctions against Hezbollah.

The latter point carried an implicit threat of Israeli military action, as it noted that the further escalation of sanctions against Hezbollah were intended to weaken it, thereby preventing the need for a powerful Israeli response against Lebanon if the movement targeted Israel's home front and infrastructure.

In addition, the MOU raised the notion of American-Israeli action to prevent territorial contiguity from Iran, through Iraq and Syria to Lebanon in order to allay Israel's security concerns that such a development could lead to the establishment of a northern front, forcing Israel to mobilize forces against a surprise Iranian attack.

During his visit Katz met with special envoy Jason Greenblatt, chairman of the Senate Intelligence Committee Richard Burr, and chairman of the House Intelligence Committee Adam Schiff. Earlier, Katz also met with US Ambassador to the UN Nikki Haley. Some of the meetings were attended by Israel's ambassador to the United States, Ron Dermer.

"We are working to build an American consensus to stop Iran and promote regional cooperation initiatives," Katz said.

The minister also attempted to enlist the American administration to promote his "regional peace framework" of connecting the Arab and Palestinian states to the Mediterranean through Israel as a land bridge. Katz presented the Americans with maps and stressed that the initiative does not contradict existing agreements and is part of an overall effort to renew negotiations between Israel and the Palestinians.