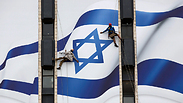 On the eve of Israel's 69th Independence Day, the population of Israel stands at 8,680,000 people.

According to data published by the Central Bureau of Statistics (CBS), the population increased by about 159,000 during the past year, an increase of 1.9%.

Since the last Independence Day, 174,000 babies were born in Israel, 44,000 people passed away, and about 30,000 people immigrated.

On the eve of the establishment of the State of Israel, the population of Israel stood at 806,000. According to predictions, by 2048—when the state celebrates 100 years of independence—the population of Israel is expected to reach 15.2 million.

The Central Bureau of Statistics (CBS) also conducted a global demographic comparison between the number of Jews in 1948 and today.

The data indicate that in 1948, the Jewish population in the world was 11.5 million, and only 6% lived in Israel. Today, 14.411 million Jews live around the world, of which 43% live in Israel.

The Jewish population today stands at approximately 6,484,000 residents (74.7% of the total population). The Arab population is approximately 1,808,000 (20.8%) and the population of non-Arab Christians, people of other religions and people with no religious affiliation totaled around 388,000 (4.5%).

According to CBS data, 75% of the Jewish population is comprised of native Israelis; 44% define themselves as secular; 24% are traditional or not very religious; 12% are observant; 11% are religious, and 9% are ultra-Orthodox.

Among non-Jews, the picture is different: the majority (52%) are religious; 21% define themselves as secular; 23% are not so religious, and 4% are extremely religious.

The largest city is still Jerusalem, home to about 865,700 residents. The smallest town is Neve Zohar in the Tamar Regional Council, which has 71 residents.

In 1948, there was only one city in Israel with more than 100,000 residents—Tel Aviv. Today, 14 cities number more than 100,000 residents, of which eight have more than 200,000 residents: Jerusalem, Tel Aviv-Yaffo, Haifa, Rishon LeZion, Petah Tikva, Ashdod, Netanya and Be'er Sheva.

In 1948, there were only two institutions of higher education in Israel (the Hebrew University and the Technion), whereas today, there are 63, including nine universities and 33 colleges.