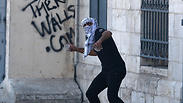 Palestinian protestor last week
Photo: AFP
Dozens of protesters were wounded at West Bank demonstrations in support of hunger-striking prisoners held by Israel, Palestinian health officials said Friday.

Spokesman Anas Diek said three people were hospitalized, including one who was shot in the head by a rubber bullet and another who was hit in the knee by a tear gas canister. He said others were treated on the scene, including for inhaling tear gas, but that he had no further details.


Director of Ramallah Hospital Ahmad Bitawi said more than 20 people were injured. He said most were leg injuries and not life threatening.

In Bethlehem, protesters waved flags with photos of Marwan Barghouti, the jailed leader who called for the hunger strike.

Some 6,500 Palestinians are currently in Israeli lockups. Israel calls them security prisoners—held for offenses ranging from stone throwing to carrying out attacks that killed or wounded Israeli civilians and soldiers.

Palestinians say between 1,300 and 1,500 prisoners have been on a hunger strike for 12 days demanding better conditions. Israel puts the number at about 1,100.

The Israeli military said about 2000 Palestinians "participated in violent riots" at several places in the West Bank on Friday. It said soldiers responded with riot control procedures but did not elaborate.

Barghouti, a leader of the 2000 Palestinian uprising, is serving five life terms after being convicted by an Israeli court of directing two shooting attacks and a bombing that killed five people. Barghouti, who disputed the court's jurisdiction and didn't mount a defense, has been in prison since 2002.

Polls suggest that the 58-year-old Barghouti is the most popular choice among Palestinians to succeed the 82-year-old Palestinian President Mahmoud Abbas.