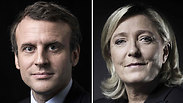 The two candidates
Photo: AFP
PARIS — France's troubled wartime past took center stage Friday in the country's highly charged presidential race, as Marine Le Pen's far-right party suffered a new blow over alleged Holocaust denial and her centrist rival visited the site of France's worst Nazi massacre.

Le Pen's years-long attempts to detoxify her party's image—efforts that have brought her one step away from the presidency—faced a new setback when the temporary leader of her National Front party quit amid an uproar over past remarks allegedly questioning the Nazi gas chambers.

Le Pen moved to clear the name of long-time collaborator Jean- François Jalkh, as well as her own. She said she "abhors" the claims of revisionists who dispute that the Nazis exterminated Jews and noted that Jalkh is suing Le Monde newspaper for its characterization of his past comments.

The party has no Holocaust deniers among its leaders, Le Pen said.

"There is no one in the direction of the National Front who defends these theses," she said in an interview on BFM-TV.

Seven decades after the end of World War II, emotions around France's history of collaborating with the Nazis remain raw in the country. France has never undergone a national atonement; instead, many people still view the actions of the collaborationist Vichy regime as a historical anomaly instead of atrocities committed by the French state.

Seeking the moral high ground, centrist presidential candidate Emmanuel Macron sought to bring the horrors of the Holocaust home to voters with a visit Friday to Oradour-sur-Glane, site of the largest massacre in Nazi-occupied France. The town is today a phantom village, with burned-out cars and abandoned buildings left as testimony to its history.

On June 10, 1944, four days after the Allied D-Day landings in Normandy, an SS armored division herded villagers into barns and a church, blocked the doors, and set Oradour-sur-Glane ablaze. A total of 642 men, women and children died.

Only six people survived.

Macron wants to send a message to voters that Le Pen isn't a candidate like any other, but the heir of a party stained by anti-Semitism, racism and an outdated worldview.

In comments to local newspapers published Friday, he said, "We don't want to forget that from here, from Oradour, comes our Republican pride, the National Council of the Resistance that built our (fundamental) balances, our strength and the European project. That is, everything Marine Le Pen wants to destroy."

Le Pen prompted her own outcry earlier this month by denying that the French state was responsible for rounding up French Jews during World War II, in a reference to the Vel d'Hiv, the Paris stadium where thousands of Jews were transferred before being sent to Nazi death camps.

Jalkh, the just-appointed interim leader of the National Front resigned Friday over the gas chamber comments reported in a 2000 interview.

Party Vice President Louis Aliot said on BFM television that Jalkh was stepping down to avoid further damage to the National Front, but that he is contesting allegations of Holocaust denial, a crime in France.

Jalkh is also among seven people called to trial in an alleged illegal financing scheme for the party—one of the other challenges facing Le Pen's campaign.

Aliot said Jalkh will be replaced as party leader by Steeve Briois, mayor of Le Pen's electoral fiefdom of Henin-Beaumont in depressed northern France.

Soccer great Zinédine Zidane, meanwhile, joined the list of prominent figures urging voters to keep Le Pen out of the presidency.

Le Pen was not letting setbacks deter her. She is painting herself as David against rival Macron's Goliath as she tries to overcome a poll gap and broaden her support base.

The two candidates offer starkly different visions of France's future—Macron's embrace of a globalized, diverse nation within an open-bordered Europe vs. Le Pen's protectionist, tightly policed France independent of the EU.

Le Pen reached out Friday from her far-right base across to the far left, urging voters who chose communist-linked Jean-Luc Mélenchon in the first-round vote to support her in the runoff.

Le Pen and Mélenchon won a combined 40 percent of the vote in the first round after populist campaigns that tapped into widespread frustration with mainstream politics.

While they hold opposing views on immigration and social issues, Mélenchon and Le Pen are both skeptical of the European Union, hostile to free-trade deals and promised to help workers hurt by globalization.