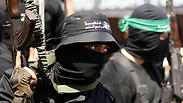 Hamas militants
Photo: Reuters
Hamas to amend controversial charter in bid to ease ties
At a conference on Monday, the party leadership is to publish a supplementary charter that will accept the idea of a state on pre-1967 borders and continue its refusal to recognize Israel; overall, the supplement is supposed to be more measured.
Hamas is to unveil a new version of its controversial founding charter which called for the destruction of Israel in a bid to ease its international isolation, party officials said. This follows an alleged version of the document having been leaked at the beginning of the month.

Leaders of the Islamist movement have long spoken of the more limited aim of a Palestinian state in the West Bank and the Gaza Strip without explicitly setting it out in its charter.

But after years of internal debate, the party leadership is to publish a supplementary charter at a conference in Qatar on Monday that will formally accept the idea of a state in the territories occupied by Israel in the Six-Day War of 1967.

In a sop to hardliners within the movement, the original 1988 charter will not be dropped, just supplemented, and there will be no recognition of Israel, as demanded by the international community.

The new document will clearly present the objective of establishing a "sovereign Palestinian state with Jerusalem as its capital in the 1967 borders," a senior Hamas official told AFP.

"It does not constitute in any way a recognition of the Zionist entity," the official added.

Leading Hamas official Bassem Naim said the new document was the fruit of four years of discussion within the movement, which has fought three wars with Israel since it seized control of the Gaza Strip in 2007.

Another Hamas leader, Ahmed Yusef, told AFP the updated charter was "more moderate, more measured and would help protect us against accusations of racism, anti-Semitism and breaches of international law."

It will "differentiate between Jews as a religious community on the one hand, and the occupation and Zionist entity on the other," he said.
'Resistance remains'
But hardliner Mahmud Zahar insisted there would be no change in the party's commitment to armed resistance against Israel, which has put it on the terror blacklists of the European Union and the United States.

He said the new document was "a tool for the future but it does not mean we're changing our principles".

"The resistance remains and we will fight (Israel) with all our might."

Hamas swept Palestinian parliamentary elections in 2006, but the international community refused to deal with any government in which it participated until it renounced violence and recognized Israel and past peace agreements.

The resulting deadlock led to mounting friction between Hamas and the rival Fatah movement of Palestinian President Mahmoud Abbas, which culminated in its seizure of Gaza.

The senior Hamas official who asked not to be identified said the new charter was also intended to give a boost to reconciliation efforts between the two factions, which still run rival administrations in the West Bank and Gaza.

The new document defines the movement's goals as "political and not religious," easing its entry into the Palestine Liberation Organization, headed by Abbas.

It describes Hamas as a "Palestinian national liberation and resistance movement with religious references," the official said.

The new charter also abandons past references to the pan-national Muslim Brotherhood, to which it was closely linked when formed.

That could ease difficult relations with the Egyptian government of President Abdel Fattah al-Sisi, who as army chief overthrew his Islamist predecessor Mohamed Morsi in 2013 and has since led a bloody crackdown on the Brotherhood.

Gaza-based political analyst Mukhaimer Abu Saada said the charter update could bolster the Islamist movement's relations with Arab states and countries like Norway, Russia and Switzerland which have never joined the Western boycott.

But he said it was unlikely to mend Hamas's relations with the EU or the US.

Hamas "is trying to change in the eyes of the international community and the Arab world," Abu Saada said.

"It could encourage some states already interacting with Hamas to formalise their relations.

"But if it does not accept the two-state solution, the international community will not remove it from its terror lists."