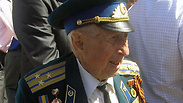 Ukrainian authorities have decided to open a criminal investigation into a 94-year-old Jewish WWII hero who is being accused of killing a Nazi collaborator.

Col. Boris Steckler was warned that he is expected to stand trial for killing a Ukrainian nationalist in 1952.

Steckler was a senior officer in the Soviet Army and after the war was appointed as an officer in the KGB and was responsible for capturing Nazis and collaborators in western Ukraine.

During a battle in the Rivne Oblast in western Ukraine, Steckler was involved in a confrontation with nationalists who cooperated with the Nazis. During the confrontation, a man by the name of Neil Hasiewicz, who was a propagandist and district judge during the war, was shot and killed.

Local nationalist groups recently filed a complaint against Steckler, accusing him of responsibility for the assassination of Hasiewicz—a fact that Steckler does not deny.

In an unprecedented move, this is the first time Ukrainian authorities have sought to arrest a person who worked against Nazi collaborators during and after the Second World War.

Steckler was recognized as a local war hero and is regularly invited to the parades commemorating the victory over the Nazis. He was wounded during the war and received countless medals for courage.

Alex Tantzer, whose family was murdered in the Holocaust in the Rivne region, said that it was nothing less than a sign of cultural decline for Ukrainians.

"I do not know whether this is anti-Semitism or not. In Ukraine, there are occasional complaints from nationalist organizations, and it's a shame that the authorities take it seriously ... It's a shame that the government in Ukraine does not stop these horrific things. Now when we celebrate victory over Nazi Germany, we are persecuting this Jew who fought against Nazis."