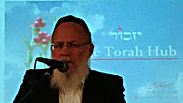 Rabbi Bloch
Photo: Neta Katz
First ultra-Orthodox Memorial Day ceremony: 'We want to take part'
The hall was full of men and women sitting separately. Outside, someone was handing out religious texts to commemorate fallen IDF soldiers; Inside, huge crowds heard talks given by both secular and ultra-Orthodox soldiers to remember Israel's heroes and terror victims.
For years, the ultra-Orthodox sector held no kind of symbolic acknowledgement for Israel's Memorial Day, during which the country mourns the loss of more than 23,000 soldiers and victims of terror.

For some significant segments of the ultra-Orthodox community, Memorial Day symbolizes nothing. In recent years, however, there has been a dramatic sociological shift in Haredi society.

From a 'society of scholars' centered around the educational institutions which gather the impetus of their movements almost exclusively from the Torah and their faith—many young ultra-Orthodox groups are striving to bring about change.

These groups have come to realize that the well-known scenario of the Haredi-Israeli Memorial Day, which includes the embarrassing indifference and footage in the neighborhoods of Geula and Bnei Brak, has come to an end and they have come to embrace the notion that they are an integral part of Israeli society.

A group of ultra-Orthodox activists decided to hold the first memorial ceremony for IDF fallen soldiers under the banner of, 'Connecting in their Memory.'

The event was held at the Menachem Begin Heritage Center in Jerusalem, and more than one hundred ultra-Orthodox youths crowded the hall and listened to a long line of speakers, whom you would probably not find in 'ordinary' memorial ceremonies.

Rabbi David Bloch, one of the founders of the ultra-Orthodox IDF Nahal battalion and the man behind the ultra-Orthodox revolution in the IDF was one of the attendees. Also in attendance, was former deputy chief of staff, Maj. Gen. Uzi Dayan.

Immediately after a reading of songs for the fallen, written by a renowned Haredi poet, the audience heard from 1st Staff Sgt. Shalom Solomon, a Haredi soldier, who over the past few years has been heading the casualty identifying unit, delivered a moving speech.
'What we need is a day to forget'
For possibly the first time ever, the Haredi 'street' participated in an honest public dialogue, in which study groups discussed what place the ultra-Orthodox community had in Israeli society during Memorial Day.

Miri Dan Gur recognizes bereaved mothers by their eyes. Miriam Peretz has questions for God, Dalia Emmanueloff decided she's not speaking to God until he gave her a sign, and Dalia Ella prays for strength.

They are four bereaved mothers, each dealing with her loss in their own way. "Memorial Day is for your benefit. What we need is a day to forget. One day during which we forget we had and lost a son."
'Oh Father in Heaven, how did you take them from us?'
"Most of us don't know of this day at all," said Abigail Karlinski, who used to study next door to a secular school. "As far as we were concerned, it was a day that happened beyond the fence." She recalled that as a little girl, "We would hear the melancholy sounds and know that it's 'something of theirs,' that doesn't belong to us."

She said that new event provides hope. "We've come to the conclusion that if we don't get the ball rolling on this kind of connection, no one is going to do it for us."

Such a gathering may seem trivial to many secular Israelis, but it is anything but usual for young ultra-Orthodox members still grappling with, and trying to build, their own identity.

The question is a difficult one. Does the fact that some Haredim identify with the values ​​and symbols of the State of Israel, and the fact that they carry out an ultra-Orthodox ceremony, exclude them from the hard core of Haredi society?

The fact that many Haredim have not served in the army or lost a loved means that they are not entirely integrated into the general Israeli narrative. But should it mean this?

"I tell the children that Naftali is with his God, that he no longer needs his body," says Rachel Sprecher Frenkel, who lost her son Naftali when he was kidnapped, along with three other youths in 2014. "How do we talk to bereaved children about faith and God? Why pray if it does not help? And how can you believe in him after what happened?"
"God owes us nothing": Speaking to the bereaved children
The "Society of Learners" grew up after the Holocaust to compensate for the great void that was left in Torah knowledge form of destruction of the yeshiva world, and sought to preserve the second generation in the face of secularism across society. A

ccording to Rabbi Bloch, experience has shown that the kibbutzim and religious societies that built walls around their communities managed to preserve 90% of the second generation in the ultra-Orthodox world, as opposed to communities that adopted a modern and integrated approach and lost large parts of their children to secular culture.

"The value of identifying with the state and the fallen makes it difficult to preserve ultra-Orthodox ways," explains Rabbi Bloch. "The parents who feared that their children would not grasp the complexity of 'we are Haredim and also love soldiers' chose to ignore and sanctify the value of the inter-generational Haredi learning and preservation society."

However, the third generation is already making a difference. "These things may have been understood in the past, when ultra-Orthodoxy was small and threatened," says Rabbi Bloch. "In the year 5737 we are already strong and mature enough to accept the complexity. Today, with the established and large yeshivas, we can accept the fundamental premise that while we are indeed Haredim, we must also remember the soldiers and remember to uplift their souls."

The hall was packed with many ultra-Orthodox youths who came to show their solidarity with the fallen soldiers and mourn their loss.

"I feel that we Haredim are out of the game," says Avigdor Rabinovich, an ultra-Orthodox social activist. "But even the many who did not serve among us feel that they want to be part of the Israeli story, not to be outside it."

Another participant, Yafi, says that "at the end of the day, we are all one human tissue. We can certainly argue about many things that characterize the so-called 'new Haredim', and that is legitimate, but we cannot ignore this day and remain indifferent to it, as is something that is still happening, unfortunately, in certain localities of the Haredi community" he said.

The organizers of the conference are aware of the sensitivities surrounding the first Haredi conference in memory of IDF fallen soldiers: "We are aware of the sensitivity, and recognize that it is an 'exploratory' conference," said Neta Katz and Halik Steinmetz, two of the organizers of the evening.

"This is our first experiment. It is not certain that Haredi society is ripe for a broader conference," they accepted. "In addition, it is important for us to emphasize that on Memorial Day itself, we mourn with the entire nation—religious and secular without sectoral affiliation. In the years to come, we believe that the conference will be a mass one, with dozens or hundreds of memorial gatherings commemorating fallen IDF soldiers," they concluded on a positive note.