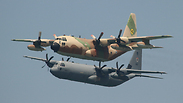 Samson transport planes
Photo: Matan Deri
Close encounter during Independence Day flyover
During the Independence Day flyover, a serious safety incident took place when two Samson transport planes came dangerously close to touching; upon landing, scuff marks were discovered on the wings of the planes, prompting an investigation; IDF: 'There was no danger to human life.'
Two 'Samson' transport planes came dangerously close to one another during the Independence Day flyover, according to a report received by Ynet on Wednesday. It was not until the landing of the two planes that the serious incident, the circumstances of which are being investigated, became clear.
The wings of the two planes apparently almost came into contact during the traditional Independence Day flyover that took place on Tuesday across the country. Although no damage was caused to the planes, the incident was detected by ground crews upon landing, when they noticed scuff marks on the wings.
IAF Independence Day flyover (צילום: דובר צה"ל)
The IDF issued a statament on the matter, insisting that no lives were put at risk: "During the Independence Day flyover, two heavy transport planes came into close contact. There was no danger to human life, and the incident is being investigated."
In addition to the 'Samson' transport aircrafts, the flyover also included Beechcraft King Air (Tzofit) planes, Gulfstream G550 (Shavit & Eitam) planes, the Boeing 707 Reem refueling aircraft and the F-15 and F-16 fighter planes (Barak, Bezal and Ram). The F-35 advanced stealth aircraft also made its debut in a two-and-a-half hour flight that crossed Israel's skies, dazzling citizens in 40 locations from Eilat to Safed.
(Translated and edited by N. Elias)