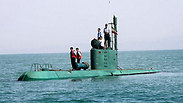 An Iranian Yono submarine
Iran reportedly tries and fails to launch submarine cruise missile
US sources tell Fox News that Iran failed in an attempt to launch a cruise missile from a submarine in the Strait of Hormuz. The launch was from a small Yono-class 'midget' submarine, which Iran and North Korea hold in their arsenals.
Two US officials told the Fox News network that Iran tried Tuesday to launch a cruise missile from a submarine at the Strait of Hormuz, but that the experiment had failed. The submarine used for the experiment is a Yono-class 'midget' submarine, which is considered to be especially small. Only Iran and North Korea have such submarines it in their arsenals.

In February, Iran claimed that it had successfully tested a missile launch from one of their submarines. It is not clear whether Tuesday's failed experiment was the first time Iran tried to launch a missile under water.

The US administration reportedly saw the failed launch as Iran's latest provocation in recent months, after a Revolutionary Guards vessel got within one kilometer from an American warship in the Persian Gulf during the end of April. After attempts to contact the Iranian vessels failed, the US Navy then fired a warning flare as a warning.

Meanwhile, the US Air Force announced that it had successfully carried out a missile launch of its own on Wednesday, for the second time in the past seven days. The missile—a land-based intercontinental ballistic missile (ICBM) named the Minuteman-3—was launched from a silo at the base of a US Air Force base in Vandenberg, California.

The American missile carried a mock warhead and hit a target in the Pacific island of Kwajalein after crossing about 6,500 kilometers.