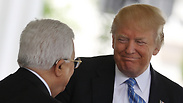 Trump and Abbas at the White House, Wednesday. In desperate need of a victory shot
Photo: Reuters
Trump's new toy: The Israeli-Palestinian conflict
Analysis: If only the US president understood that what Abbas put on the table is the exact solution Netanyahu doesn't want to and can't accept, he would have realized there is no point in dipping his toes in the Middle Eastern swamp. But Trump, whose power is in his ignorance, won't let the details get in the way.
WASHINGTON—Donald Trump lacks any deep knowledge about the roots of the Israeli-Palestinian conflict, its history and the great dreams that were shattered. He is unaware of the emotions creating the animosity and is ignorant about the injustices that have been caused for decades. The rivers of blood that fed the never-ending battles over the land and over honor were something he sort of heard about, in his impatient manner, in a short report.

And he doesn't really care. His ambition is to score an impressive foreign policy achievement, a success of his own, which he will be able to put his name on in golden letters, as he likes to do. After a little over 100 days of a chaotic presidency, with record-low approval ratings, Trump is in desperate need of a victory shot.

For some reason, he marked the Middle East as his first target: He began pushing for a deal, which—in his opinion—he is the only one capable of reaching, in a bid to show the world not only who's boss but also that the great Donald is the only one who can succeed where everyone else has failed. In the conflict, he sees elements of a real estate deal: An acre here, an acre there—and something great will suddenly develop between Israel and the Palestinians.

After a series of failures by American presidents to bring about a breakthrough and help the warring sides reach a peace agreement, Trump entered the ring like a neighing horse. In his meeting with Palestinian President Mahmoud Abbas on Wednesday, he spread in all directions something that this battered region has been lacking for years: Optimism and hope. He didn't say how he would do it, he didn't present a plan or describe the nature of the agreement he had in mind, he didn't say who would have to make concessions and where. All he did was throw different words into the air, such as: A successful deal, something new, peace for all children of the region, calm, commitment, an end to violence, an end to hatred, the time has come. Music to the ears of a region whose inhabitants are certain that the world has long forgotten about them.

Others have uttered these words before him, but Trump said them without preaching, without pointing an accusing finger. He didn't say who were the good guys and who were the bad guys, he didn't try to outline borders prematurely or divide Jerusalem before placing it on the negotiating table. He is doing it his way, as he used to do when he built skyscrapers: He is the ultimate ribbon cutter of successful deals, and now he has come to a tough neighborhood.

A low-spirited Abbas stood next to him, leaning over his papers. Time and the long struggle seemed to have left their mark on him. Over the years, he received more than enough promises and castles in the air. He looked and sounded like an exhausted warrior. There was something heart-rending about his attempts to praise the American president for his leadership and courage. That's how he was prepared for the meeting, he was urged to give Trump what he likes best—a great stroke to his ego.

That was not the only thing he brought along to the meeting, however. Unlike Trump, who kept all the cards close to his chest, Abbas put on the table—in front of the media—the only possible solution as far as he is concerned: Two states, east Jerusalem as the capital of Palestine, the 1967 borders, a solution to the refugee problem, and an Israeli recognition of the state of Palestine like the Palestinians recognize the State of Israel.

If Trump only understood that this is the exact solution Prime Minister Netanyahu doesn't want and can't accept, he would have realized at this stage that it would be pointless to dip his toes in the Middle Eastern swamp. But Trump, whose power is in his ignorance, hasn't studied anything thoroughly and therefore possesses the optimism reserved for people with no knowledge: He doesn't let the details get in the way. He is certain that if he offers himself as a middleman, the parties will do whatever he says. That's what he is used to from his time as the greatest king of business. With the enthusiasm of a child who just got a new toy, he is grabbing the conflict with both hands and promising to do everything in his power to end it with a peace agreement. Perhaps this approach will work, after everything else has failed.

And if Trump's new toy breaks into pieces, it won't be that bad as far as he is concerned. He'll just find a different toy. Meanwhile, we will keep bleeding because of leaders who lack any courage or wisdom and who don't mind running head-first into a wall, along with us.