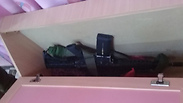 M-16 found in a bed
Photo: IDF Spokesperson's Unit
IDF discovers M-16 in children's bed during terror raid
In joint operation, IDF and Shin Bet forces storm home as they bust a three-man terror cell responsible for shooting at Israeli settlements and at IDF forces; during search, forces discover the lethal weapon concealed in a child's bed; cell planned to shoot at moving civilian vehicles.
Israeli security forces discovered lethal weapons, including an M-16 assault rifle, hidden inside children's beds during a house raid operation in pursuit of a three-man terror cell, it was cleared for publication on Thursday.

The men were arrested in a joint operation carried out by the IDF and the Shin Bet and are believed to have used the M-16 to fire shots at Israeli communities and IDF bases in the Samaria region of the West Bank.

Israeli forces arrived last month at the homes of two of the suspects and arrested them during a raid in which weapons were found concealed in the pink-covered beds.

During April this year, around ten shooting attacks were carried out against Israeli civilian settlements and against IDF forces in the Jenin area, Nablus and Tulkarm. While none of the shots resulted in injuries, damage was caused to property.

An investigation launched by the Shin Bet revealed that the terror cell comprised three residents of the Fahma village in the region, two of whom were identified as Luay Ahmed shafiq Sa'abaneh (34), a lawyer by profession and affiliate of the terror group 'The Popular Front,' and his cousin Shafiq Mahmoud Shafiq Sa'abaneh (26).

During the arrests security forces discovered and confiscated a number of weapons and also appropriated vehicles, some of which were used by the cell's members to carry out the attacks.

The Shin Bet investigation exposed the full extent of the cell's operations which also included firing shots at IDF vehicular patrols.

The main Israeli settlements which found themselves in the crosshairs of their rifles were Shaked, Hermesh and Shavei Shomron.

The cell also planned attacks which involved shooting at moving civilian vehicles. One of the members predicted that he would be killed during one of his missions and therefore prepared a will which he kept in his home. Indictments are expected to be filed against the suspects.