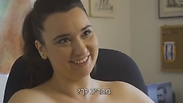 Topless IDF chief
Screenshot from the video
Satirical video raises awareness to sexual harassment by reversing the roles
A male secretary finds the female IDF chief topless in her office, while another senior female officer intentionally spills coffee on a soldier's pants, insisting on cleaning it up herself; 'We wanted to show men what it's like when the roles are reversed,' says one of the creators.
A new Israeli satirical video seeks to raise awareness to sexual harassment by reversing the roles and showing women harassing men.

The video, made by the ensemble BooBachka, portrays women as the IDF's top commanders with men as their secretaries.

In one scene, a male secretary enters the IDF chief of staff's office to find her shirtless, while in another one of the senior military officers intentionally spills coffee on the pants of the IDF chief's bureau manager, insisting she must clean it herself.

The video with English subtitles

The video, which is filled with sexual innuendo, ends with the female officers reciting comments often made by men who face allegations of sexual harassment.

The video, which went online on Friday, had over 250,000 million views on Facebook and over 2,500 shares. It has since been removed from Facebook, but is still available on YouTube, where over 10,000 have watched it.

"We've been creating together for three years," says BooBachka member Gali Ashkenazi Levine, "and we have a comedy show with skits at the Cameri Theater. We deal with women-related issues, giving it a humoristic angle."

The ideas for the video, says Ashkenazi Levine, "came from the society we live in. We live in a society filled with harassment, and as women that is a very frustrating world."

"My father and brother don't really understand this. They don't know that I get harassed on the street every day," she added. "So we decided to show them what it would be like if things were reversed."

The ensemble decided to set their video in the IDF because "the military is a model of the very masculine and chauvinistic society we live in."

However, it was important for Ashkenazi Levine to stress that the video does not seek to criticize the army, but rather the situation. "We don't want to slander the army. We all served in meaningful roles and we have nothing against the IDF. But we know from the media how much the IDF is plagued with this disease."

Yuli Friedman, another member of the ensemble, told Ynet about why the video had to be so blunt. "When we started thinking about the video, we said: If we don't go extreme, people won't listen. Meaning, if we don't shout it, people won't get the point," she says.

The ensemble wanted to demonstrate to men how women feel when they are harassed. "It is exactly because of men who would say: 'What's the problem? We gave you a compliment. If a woman gave me a compliment, I'd be happy.' We wanted to take it an extreme place and show how uncomfortable men are in such a situation," Friedman explains.

The reactions to the video were varied. "The best reactions were from girls writing 'Oh my God, it's exactly like that.' Or men who wrote 'Wow, you gave me something to think about,'" Ashkenazi Levine says.

"There are also negative reactions from people who say we've exaggerated things. It amuses me because it shows they're unfamiliar with this world of harassment," she added.