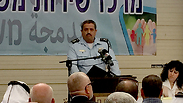 Roni Alsheikh
Photo: Gil Yohanan
Israel Police open first ever station in Shuafat refugee camp
As part of the campaign to provide adequate police services to Arab residents throughout Israel, the first ever police station in the east Jerusalem neighborhood is officially opened in a ceremony attended by local officials and government representatives.
The Jerusalem District Police have opened a new police station for the first time in one of the most difficult Arab neighborhoods in east Jerusalem—the Shuafat refugee camp.

The compound, which is referred to as the "Integrated Service Center," will provide residents of the camp policing services such as filing complaints of theft and violence, while also having offices with which to provide municipal services.

The opening of the police station is part of an initiative put forth by Jerusalem District Police Commander Yoram Halevy.

Halevy noted that while the goal of the center is to make services accessible to the residents, the most important thing, in his opinion, is that the residents of east Jerusalem receive a different police force than they are used to—one that will provide services to the ordinary citizen to deal with the daily problems he or she encounters.

After Shuafat, the next Arab neighborhood to get a police station will be Sur Baher.

Minister of Public Security Gilad Erdan, Police Commissioner Roni Alsheikh, Jerusalem District Commander Yoram Halevy and Mayor of Jerusalem Nir Barkat all attended the ceremony marking the opening of the center.

In addition to Israeli public officials, a small number of local officials from Shuafat also attended.

"The Police are working hard to show the ordinary citizen that they should see the police officer as someone who protects and serves them," said Alsheikh. "A resident that receives quality, culturally-oriented police services on issues that bother him, feels that the police are there for him or her when it comes to the small things."

Minister Erdan said that the police station and its location can possibly "bring about a deep and historic change here."

While there are some residents of the camp who are supportive of the police station thanks to access to services previously unavailable to residents, others claim that it only tightens Israeli hold on Palestinian neighborhoods in the city.

Daoud Abu Ashab, head of the Neighborhood Development Committee in the Dahiyat al-Salam section of the camp, welcomed the move.

"For many years we have lived in oppression, but now we are happy that the police decided to provide services to the residents in coordination with the camp representatives, and we hope that this project will improve the standard of living of the residents," said Ashab.