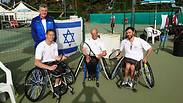 The silver-winning team
Photo: Israel Sports Association for the Disabled
Israel's wheelchair tennis team won the silver medal at the BNP Paribas World Team Cup on Sunday after losing 2:1 to Britain in the finals held in Alghero, Italy. In the doubles match, Noam Gershony and Shraga Weinberg lost to Britain's Andrew Lapthorne and Antony Cotterrill 6:3, 6:0.
Winning the silver medal is another link in the chain of successes of Israel's Paralympic Tennis Team. They are coached by Martin Gilbert, who returned to Israel in 2013 after a long stay in the US. There, Gilbert served as the head coach of Philadelphia University.
This silver medal is in addition to the title they won in the championship in 2012 in South Korea and before that in 2001. The last time the team was on the podium was in 2014, coming in third place in the championship held in the Netherlands.
A tradition of achievement
Gershony, 34, was an Apache helicopter pilot during the Second Lebanon War and was seriously injured in a helicopter crash. After extensive medical rehabilitation, he joined Beit Halochem in Tel Aviv and began playing wheelchair tennis.

He enjoyed a series of successes that brought him to a worldwide third-place ranking and clinched his ticket to the Paralympic Games in 2012, even though he had started playing only a year and a half earlier. In London he stunned everyone when he won the gold medal.

That same day, he also won the bronze medal in the doubles games, together with Weinberg. After the Paralympics, Gershony took a long break from the game. He returned in 2013 to join the national team, but since then he has not returned to individual games.

Gershony tears up in 2012 when 'Hatikva' is played (Footage courtesy of Channel 1)

Shraga Weinberg, 51, was born with a rare genetic disease that causes bone density abnormalities and is considered one of the leading Paralympic athletes in Israel. Together with Boaz Kremer, he won the silver medal in the doubles tournament in Beijing 2008 and bronze together with Gershony in London. At the opening ceremony of the Paralympic Games in Rio de Janeiro in 2016, Weinberg carried the Israeli flag.

(Translated and edited by J. Herzog)