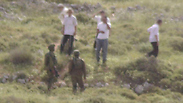 Jewish settlers attack Palestinians in the West Bank
Photo: Rabbis for Human Rights
Israel increases number of citizens temporarily banned from West Bank
In a continued and thus-successful campaign to reduce acts of Jewish terrorism in the region, 17 orders removing Israelis have been issued since the beginning of the year; one father of six just received notice that he is to leave for six months, and a campaign supporting him has taken off in Yitzhar.
Over the past month, Israel has increased the number of military orders requiring certain Jewish Israelis from entering the West Bank, aiming to reduce terrorist attacks carried out by Jews there. One settler who received such an order has become the focus of a campaign calling the order against him to be lifted.

Elkana Picard, a 32-year-old resident of the settlement of Yitzhar, on Sunday received a summons to a hearing. He was informed that that the GOC Central Command—the ex officio sovereign in the West Bank—intended to issue an order removing Picard from the West Bank for a period of four months.


Posters have been plastered throughout Yitzhar with a photo of the married father of six and with the caption: "We are all Elkana Picard."

According to the Shin Bet's assessment, Picard, like others who have received similar orders, may inflame tensions in the West Bank.

In total, 17 orders have been issued in the past month. The number of those who have been removed from the disputed territory is 37 since the beginning of the year. The Shin Bet and the Israel Police have asserted that that these orders are effective and point to data that support this.

In 2015, there were 16 attacks defined as Jewish terrorism. In 2016, there were only two. This year there were also two incidents defined as Jewish terrorist attacks, including a group from Be'er Sheva who was arrested on suspicion of attacking Arabs and setting fire to a vehicle in Huwara.

The reason for the order issued to Picard, who works as a contractor, was investigated in the past on suspicion of attacking Palestinians. The Shin Bet claims that Picard has been involved in and directed violent activity in the Yitzhar area against Palestinians and security forces.

Picard filed an objection to an order in which he claimed that it would harm his source of income and his family.

Picard also denied any complicity in acts of violence. He added that hosting members of the Hilltop Youth, whom he regularly employs, is not a reason to issue an administrative order against him. He claimed that there was nothing wrong with hosting the young men and providing them with a warm bed, support and Torah lessons.