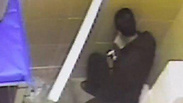 Barghouti breaking strike
Photo: Prison Services
Barghouti's cookies signal crumbling of hunger strike
Israeli security forces release footage showing Marwan Barghouti trying to conceal the fact that he is eating cookies and other snacks in the midst of a hunger strike staged by security prisoners which he himself is leading; Public Security Min. Gilad Erdan says footage shows strike about Barghouti's political interests, not prisoners' conditions.
Marwan Barghouti, a Palestinian security prisoner leading a mass hunger strike among fellow inmates, was recorded on security cameras in his cell eating, among other things, cookies and salted snacks, according to Minister Public Security, Strategic Affairs and Minister of Information Gilad Erdan.

Presenting the footage during a press conference, Erdan said that prisoners' conditions, over which they allegedly launched their hunger strike, were not the real reasons behind it.

Barghouti eating snacks (Credit: IPS)

"The Palestinian prisoners' hunger strike has nothing to do with their prison conditions, and everything to do with the political interests of Marwan Barghouti," said Erdan during the press conference on Sunday, as the strike reached its 21st day. "Barghouti is a murderer and hypocrite who urged his fellow prisoners to strike and suffer while he ate behind their back."

"Just like he lied to the world when he wrote in the New York Times that he decided to strike in order to protest ill-treatment, he lied to the Palestinian public when he claimed to be striking. Israel will not give in to extortion and pressure from terrorists," he added.

Qadoura Fares, who heads an advocacy group for Palestinian prisoners, cast doubt on the footage, saying Barghouti is being held in solitary confinement and has no access to food.

Barghouti's wife, Fadwa, also expressed her belief that the footage was fake.

Erdan speaks in English about the affair

Fares said earlier Sunday that hundreds of Palestinians participating in the hunger strike began taking vitamin supplements on day 15. He said guards had punished the strikers by seizing all personal items and leaving prisoners "with nothing except their beds." He says the information comes from lawyers who recently visited the strikers.

It is not the first time Barghouti has been caught red-handed sneaking a snack in the midst of a hunger strike.

In 2004, Barghouti was filmed secretly breaking his strike, which was also launched by security prisoners.

In the the footage which was filmed on April 27 in Barghouti's prison cell after he was moved to solitary confinement upon the launching of the strike, he can be seen eating two cookies.

Last Friday, May 5, he was filmed for a second time, this time eating a wafer, before attempting to hide traces of his political transgression by flushing the wrapping paper down the toilet.

The same day, Barghouti was recorded opening up a sachet of salt and quickly pouring it into his mouth. Salt is used by the strikers to help them through their self-inflicted ordeal.