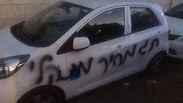 Price Tag
Photo: Police Spokesperson's Unit
Twenty vehicles parked on Route 21 between Ramat Shlomo in eastern Jerusalem and Shuafat in north Jerusalem were discovered vandalized overnight Monday, with graffiti having been sprayed on some of the cars with the Hebrew words "price tag."

Police also reported that some of the cars' tires were punctured by the vandals.

The term "price tag" is commonly used by Jewish or political extremists in carrying out a revenge attack for a specific act.

Police forces arrived at the scene with forensic teams that collect findings and opened an investigation that included intelligence gathering and technological analysis of evidence collected at the scene.

At the beginning of the week, Ynet published figures showing that in the last month alone, 17 restraining orders had been imposed in the West Bank against members of the hilltop youths as a preemptive move amid fears that they would stoke up tensions in the wake of recent violent incidents that have beset the area.

Such violent incidents perpetrated by Jewish extremists include rock-throwing at Israeli security forces and at left-wing groups in Binyamin, clashes in the Palestinian town of Huwara and the burning of a vehicle in a village two weeks ago.

Shin Bet statistics show that in 2015, the number of incidents defined as Jewish terror attacks was 16, a figure that significantly dropped the following year to just two.

In 2017, two such incidents have already been recorded, including one involving an individual from Be'er Sheva who was arrested on suspicion of attacking Arabs and setting fire to the vehicle at Huwara.