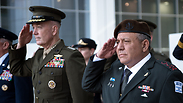 Eisenkot and Dunford
Photo: IDF Spokesperson's Unit
An honor guard ceremony was held at the Kirya IDF Headquarters for Chairman of the Joint Chiefs of Staff, Gen. Joseph Dunford, Tuesday morning.

Gen. Dunford received an official commendation from IDF Chief of Staff Gadi Eisenkot and will later meet with Prime Minister Benjamin Netanyahu and Minister of Defense Avigdor Lieberman.

Honor Guard for Gen. Joseph Dunford (צילום: עידו ארז)

Gen. Dunford, who is visiting Israel for the third time—and the first time since the Trump administration entered the White House—was awarded the commendation for his outstanding service, his special contribution to the Israel Defense Forces and for the personal leadership he demonstrated by strengthening ties between US armed forces and the IDF.

The American head of the Joint Chiefs of Staff is expected to discuss the Syrian civil war, Assad's chemical weapons arsenal, developments in the Sinai and attempts to transfer advanced weapons to Hezbollah.

Last August, Eisenkot and Dunford met in the United States, where the latter presented Eisenkot with the Legion of Merit medal during an honor guard ceremony at the Pentagon in Washington.