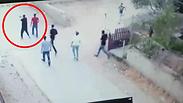 A Palestinian was filmed shooting a gun at Israeli cars in the West Bank from a distance of about 20 meters and was detained less than an hour later on Sunday evening.

An IDF unit from the Combat Engineers' 601st Battalion, which is responsible for the southern Hebron hills, captured the 30-year-old Palestinian from the village of Rabud, near the town of Dahariya, after he allegedly fired the shots towards Route 60. The suspect claimed that he had fired in self-defense.

A security camera caught the incident wherein, according to the IDF, he fired more than 15 bullets. No one was hurt or injured.

"At about 19:30, the soldier on guard duty at our outpost near Otniel heard many shots, and then I heard them as well coming from nearby," the commander of the 601st Company, Capt. Neria Gur, told Ynet.

"With the help of quick intelligence activity, we closed the circle on the identity of the shooter, we got on his house and arrested him within half an hour," said Gur. "The weapon was hidden in the vicinity of the house and he claims to be self-defense, but we know that any illegal weapon, such as this pistol, will also be used for terrorist-related circumstances, and not only criminal."

Route 60 throughout Judea and Samaria, and particularly in the southern Hebron hills, remains open to Palestinians, including during the wave of terrorism over the past two years.