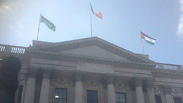 Palestinian flag above city council
The Dublin City Council has raised the Palestinian flag "in solidarity with the Palestinian people, who are living under a brutal Israeli apartheid regime, on the 50th anniversary of the occupation."

The decision was made Tuesday to show solidarity with the Palestinians and the flag will fly over the iconic building for one month.

Initially, the decision was to raise the flag on May 15 "to mark 50 years of Israeli occupation of the West Bank and Gaza," but the decision was ultimately implemented earlier.

The proposal was put forth by John Lyons, who also organized pro-Palestinian protests in Ireland in the past. He explained that he proposed the flag-flying as a gesture of solidarity with the Palestinian people.

"The Irish people have held large demonstrations to support the Palestinians in recent years. Israel is an apartheid regime. If raising the flag was to cause a bit of a debate amongst some people who are unsure of it flying over City Hall, I think that's a welcome development. I think that today more and more people think that the way Israel behaves drastically undermines the cause of its establishment," said Lyons.

Israel's ambassador to Ireland, Zeev Boker, had sent a letter to the council members in an attempt to convince them to oppose it.

Boker wrote that the decision is politically charged and demonstrates a one-sided approach to the conflict. "Dublin has a proud tradition of receiving new communities and I know of many Israelis who have come to Dublin to work and decided to stay. What kind of message will that send to those Israelis who are now proud to call Dublin their home?"

"Members of the Jewish community in Ireland are also concerned about the negative message emanating from flying the (Palestinian) flag," Boker added in his letter. "The embassy will be happy to help promote any other initiative that will bring Israelis and Palestinians together and promote understandings between the two peoples."

Council member Anne Feeney proposed a compromise whereby both the Palestinian and Israeli flags would be flown over the City Council building, but her proposal was struck down by a majority vote of 43-11.

The Israeli Foreign Ministry issued a response to the decision, saying, "Unfortunately, the balanced majority allowed a vocal minority that wants attention to use its power to promote a one-sided and biased agenda. The decision that the council and the capital of Ireland took raises the white flag (of surrender) to terrorist organizations, hate and extortion. This decision besmirches the good name of the city and its citizens. This decision may ultimately cast a shadow over Ireland's ability to play a useful role in any future process in the Middle East. We expect the responsible political and media bodies to shake off this extreme and unbalanced position."