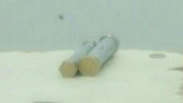 The pipe bombs
Photo: Israel Police
A Palestinian minor tried to enter a military court in the West Bank on Wednesday with two pipe bombs and was stopped by Border Police.

The youth arrived at one of the court's checkpoints near the village of Salem in the Jenin area and tried to get to the court.





The suspect told forces at the checkpoint that he does not have any identification on him, which aroused their suspicions.

The Border Police soldiers searched the teen and found two pipe bombs hidden in his clothes.

Border Police bomb disposal experts were called to the scene to neutralize the explosives.