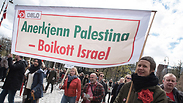 Norway protestors calling to boycott Israel
The Norwegian Confederation of Trade Unions (LO) went against a recommendation from its leadership and voted 197 to 117 in favor of an international economic, cultural and academic boycott against Israel because of the current impasse in peace talks with the Palestinian Authority (PA).

Among the objectors to the vote was the newly elected LO leader Hans-Christian Gabrielsen, who warned against a general boycott and said that the decision might also affect Palestinian workers.

The majority of the LO supported a boycott of Israeli settlement goods, but a vocal minority pushed for the general ban against Israel, which passed.

Israeli Ambassador to Norway Raphael Schutz strongly condemned the decision.

"This immoral resolution reflects deeply rooted attitudes of bias, discrimination and double standard towards the Jewish state," Schutz wrote on his Facebook page.

"To work for a full boycott of the state of Israel will only contribute negatively, and further increase the mistrust and tension, pushing us further away from reaching a peaceful solution," he added.

Noting that LO had also called for the dismantling of a barrier erected by Israel separating it from the Palestinian territories, Schutz wrote, "By adopting these positions LO placed itself shoulder to shoulder with the worst enemies of Israel."

LO, which also called for Norway to recognize a Palestinian state along the pre-1967 borders, was criticized by the government.

"Norwegian government strongly opposes Norw(ay's) Labor Union's decision: #boycott of #Israel. We need more cooperation and dialogue, not boycott," Foreign Minister Børge Brende wrote on Twitter.

"Norway has close, long-term and friendly relations with both the Israelis and Palestinians, and wants broad political, cultural and economic cooperation with both parties," added Brende.