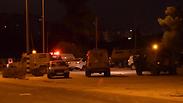 Ramallah checkpoint
Photo: Inbal Reuveni/TPS
An Israeli family attempting to get to Kiryat Sefer (Modi'in Illit) got lost in the West Bank and accidentally entered the Palestinian village of Bir Zeit near Ramallah, where they were transferred to a Palestinian police station.

The Cohen family, including their four children, were eventually safely returned to Israeli territory.

In an interview with Ynet, Ayelet Cohen described the experience as "terrifying" and said, "I feared for the children."

"It was nearly 1am, the kids were asleep in the back seat and the village seemed to never end. At some point, there was no cell reception either. I was terrified the whole time for the safety of the children. We eventually managed to call the police.

"The police told us not to get out of the car and to continue driving back and forth for almost 40 minutes. Inside the car, there was a sense of tension and fear. All of a sudden, four cars came speeding up and blocked the road.

"I was sure they were going to lynch us. A lot of young Arabs came out of the cars and started banging on our car and my husband told them he was on the line with the police. They then opened our car doors and took us to the (Palestinian) police and they spoke Arabic. They took our phones and drove us to the Palestinian police station. At this stage, I had no idea where we were going at all."

Unbeknownst to the family however, IDF and police forces had already made contact with Palestinian security forces. Shortly after the Cohen family was brought to the police station, they were transported to a Ramallah checkpoint and released back into Israeli territory.