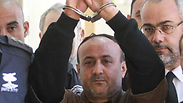 Barghouti in 2012
Photo: Gil Yohanan
Barghouti threatens to escalate Palestinian prisoners' hunger strike
The terrorist issues list of demands to Israel Prison Service, including TV with 20 channels, access to a pay phone, better visitation rights, air-conditioners in prison cells; says if demands not met within 2-3 days, prisoners will stop drinking water.
Terrorist Marwan Barghouti has threatened to further escalate the Palestinian prisoners' hunger strike, issuing the Israel Prison Service (IPS) a list of demands on Monday.

Barghouti, who is leading the hunger strike, has been put in solitary confinement since it began almost a month ago. The only visitors he has been allowed to have are representatives of the Red Cross and his attorney.

His lawyer, Hader Shkirat, told Ynet after their meeting on Sunday that if no agreement is reached between the striking prisoners' leadership and Israeli authorities in the coming days, the prisoners would also stop drinking water in addition to not eating.

"It could happen in the next two or three days," Shkirat said.

Shkirat also discussed Barghouti's current physical and mental state. "He lost 13 kilograms since the strike began. He's cut off from the outside world and doesn't know anything about what's happening. He seemed very weak, but his morale is high and he is determined to see the prisoners' demands met."

The lawyer claimed Barghouti has not been allowed a change of clothes and has been wearing the same clothes he was wearing when he was put in solitary confinement.

Barghouti also claimed to his lawyer that the IPS was trying to "break him" in different ways. "He told me he's being played very loud noise for ten hours a day. It prevents him from sleeping," Shkirat said. "When I met him, he had toilet paper stuffed in his ears. He complained about the loud noise to IPS personnel at the prison, and they said there was no noise and that he had a problem."

Shkirat said Barghouti "really laughed" over a video showing him eating a chocolate bar in his cell. "It's a fake video and he said it was expected (the Prison Service) would do it, just as they filmed him allegedly eat during the hunger strike in 2004," the lawyer said. His client, he added, "thanked the IPS for releasing the video, because it only served to increase the determination of the striking prisoners."

Barghouti caught eating during the strike (Credit: IPS)

He also noted Barghouti was not involved in any negotiations or dialogue with Israeli authorities to end the strike. "He has no information about what's happening, but the decision to end the strike is his alone. He is opposed to conducting the negotiations himself, but he has no problem with others doing it."

Barghouti, who is serving five life sentences for his involvement in the murder of Israelis, sent a letter to Prison Service Commissioner Ofra Klinger on Monday with a long list of demands. Among other things, he demanded that prisoners once again be able to take courses at the Open University, as well as be allowed to prepare their own food.

Below is the full list of demands:
Installing a public pay phone for the prisoners' use.
Improved visitation rights.
An annual medical examination for every prisoner, more frequent medical examinations for prisoners over 50, transporting sick prisoners in a special vehicle, dental implants, allowing private doctors to enter the prison without delay.
Cancelling disciplinary action taken against the prisoners.
Giving prisoners access to 20 TV channels.
Giving Gaza prisoners the same visitation rights as other prisoners.
Allowing books, weeklies and newspapers to be brought into the prison without limitations.
Changing and increasing the products available at the prison's store and increasing the amount of money a prisoner's family can deposit for him to NIS 2,000.
Improving the conditions during prisoner transfers.
Transporting female prisoners in special, separate transports, improving their conditions.
Installing air-conditioners in the prisons, particularly in Gilboa Prison.
Resolve the issue of overcrowding in cells by housing no more than four prisoners per cell, in accordance with the Supreme Court's ruling.
Allowing prisoners to study at the Open University, as well as study for and take the high school matriculation exams.
Improving and changing daily living conditions by having a dialogue with the prisoners.
Compensating prisoners who don't get a visit from their family with a phone call.
Putting an end to the policy of placing prisoners in solitary confinement.
Releasing prisoners who are chronically ill or have special needs.
Allowing prisoners to prepare their own food and manage their own kitchen.
Keeping the prison cells open in the summer until 10pm.

Public Security Minister Gilad Erdan said that Barghouti's list of demands "only proves how extreme and farfetched his demands are. No other country in the world would negotiate with terrorists over such demands, especially Israel, which is waging a battle against terror organizations, is not going cave in to extortion and in that hurt its deterrence against terrorists."