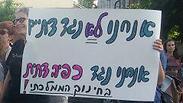 Protests outside of Bennett's home
Police Commissioner Roni Alsheikh has instructed police to prohibit protests from being staged outside the homes of elected officials and senior public figures. Such protests have recently taken place outside the homes of Attorney General Avichai Mandelblit and Minister of Education Naftali Bennett.
According to Alsheikh's directive, such demonstrations will only be allowed if the official does not have an office out of which he or she works. Additionally, demonstrations against public officials will only be permitted outside their offices.
Alsheikh's directive was made following a High Court ruling on the matter.
The Israel Police issued a statement, saying, "The recent High Court ruling states that as a rule, demonstrations or protest rallies should not be held near the private residences of public figures when there is an effective alternative. Currently, the attorney general is working on amending the directive on this matter and the police will act in accordance with the established guidelines."
The new directive comes as dozens of parents and children demonstrated outside Bennett's home last Shabbat in Raanana, protesting the transfer of the Lag B'Omer holiday vacation.