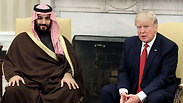 Saudi crown prince meeting with Trump
Photo: MCT
Persian Gulf states have offered to take concrete steps to improve relations with Israel if Prime Minister Benjamin Netanyahu moves to restart the peace process with the Palestinians, halt settlement construction, and ease the blockade on the Gaza Strip, according to a report by The Wall Street Journal.
The proposal was presented to Israel and the United States ahead of US President Donald Trump's visit to the region next week.
According to the report, the measures proposed by the United Arab Emirates and Saudi Arabia include establishing telecommunications lines with Israel, allowing Israeli planes to fly through their national air space and lifting various trade restrictions.
Netanyahu's office declined comment on the report.
The Gulf states' proposal, according to the Journal, is detailed in a document that has yet to be released publicly. With this proposal, UAE and Saudi seek to align themselves with President Trump's effort to recruit Arab states' help in promoting peace in the Middle East.
Trump is currently devoting time and resources to diplomacy in the region. Abu Dhabi's crown prince, Mohammed bin Zayed Al Nahyan, met the president in Washington on Monday.
The president was scheduled take off for Saudi Arabia on Friday and then continue to Israel.
Ties between Israel and the Sunni Gulf states have improved in recent years—most of which was done through unofficial channels—as part of the fight against joint enemies: Shiite Iran and ISIS.
Among other things, Israel has increased intelligence cooperation with Gulf states in an effort to thwart Iran's arms shipments to their proxies in Yemen, Syria, and Lebanon.
Israeli officials have reportedly made secret visits the Persian Gulf, mainly to the United Arab Emirates, even though there are no formal diplomatic relations between the two countries.
"We no longer see in Israel an enemy but a potential opportunity," said an Arab official involved in the talks.