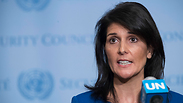 Trump's UN envoy: 'Western Wall is part of Israel'
Speaking in an interview with CBN, Nikki Haley stresses that while she is unaware of official US policy, she firmly believes Kotel to be 'part of Israel'; mixed signals continue to flow out of the White House on Trump administration's position, with national security advisor McMaster refusing to directly answer questions on the matter, and Sean Spicer only acknowledging the Kotel's religious significance and geographic location.
Amid prevailing uncertainty as to where the US Trump administration stands on the status of the Western Wall (the Kotel), US Envoy to the UN Nikki Haley sought to clarify Tuesday night her own stance, saying in an interview that "I believe that the Western Wall is part of Israel."

Speaking to CBN, Haley was asked about a recent spat that took place between an Israeli and American team at the Kotel during which a member of the US delegation told his counterparts, "This isn't your territory. It's the West Bank's."

Nikki Haley: 'Western Wall is part of Israel.'

Stressing that she did not know what the US administration's official policy was, she nonetheless reaffirmed her belief that the Kotel belonged to Israel.

"I think that's how we've always seen it and that's how we should pursue it. I'm not really sure what happened with that issue but I know that they're trying to fix that and get that taken care of but you know we've always thought that the Western Wall is part of Israel," she stated unequivocally.

Haley is set to join President Trump on his upcoming visit to Israel. Since taking on her new role, she has managed to earn the trust of many Israel supporters and build a reputation as one of Israel's staunchest advocates on the international stage through a series of public speeches and declarations admonishing the UN for its bias treatment against the country.

But Haley's remarks came on the heels of conflicting statements made by other White House officials. During a White House press conference held on Tuesday, National Security Advisor H. R. McMaster avoided answering a question on whether he recognized the Kotel as being part of Israel.

"Oh, that sounds like a policy decision, you know—and that's the President's intention...The President's intention is to visit these religious sites to highlight the need for unity amongst three of the world's great religions," he said.

The mixed signals from the Trump administration didn't stop with McMaster however. Shortly after the press conference, White House Spokesman Sean Spicer also dodged a similar question. "The Western Wall is obviously one of the holiest sites in Jewish faith. It's clearly in Jerusalem," Spicer said in a somewhat ambiguous response.

H. R McMaster

President Trump is officially set to visit Israel for the first time since entering the White House on May 22 and will stay in the country for one night. It will be the first foreign country he visits as president, a fact noted by US Ambassador to Israel David Friedman while presenting his credentials to President Rivlin.

"As you know, the President has chosen Israel as the site for his first international visit this coming week. His love for and commitment to the State of Israel is rock-solid and enjoys his highest priority," Friedman said.