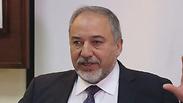 Lieberman
Photo: Yair Sagi
Lieberman praises US-Israel security ties amid intel leak reports
Minister of Defense Avigdor Lieberman praises security ties between the two allies despite the surfacing of reports that President Trump leaked classified Israeli intelligence to Russia that could jeopardize security of an Israeli spy in ISIS.
Minister of Defense Avigdor Lieberman attempted to play down the severity of reports that President Trump gave Russia Israeli intelligence Wednesday, saying that security cooperation and relations with the US remained robust.

"The security relations between Israel and its greatest ally, the United States, are deep, significant and unprecedented in their scope and their contribution to our strength. That is how it always was and how it always will be," Lieberman said.

Following the publication of Trump's apparent leak, the president uploaded a post on his Twitter account insisting that he has the "absolute right" to share intelligence with Russia.

However, after it was exposed that the intelligence came from Israeli sources, US officials attempted to prevent media outlets from publishing the information. Despite the risk of rising tensions over the incident, Sima Shine, a former Mossad official who was head of a research department, said in an interview with Ynet that relations would not be harmed.

"These issues of information divulgence happen. The question is much broader, especially in how the information was prepared for him during the meeting. Did someone highlight things he should know, but not say? This specific case is not unique."

In regards to the political firestorm in the US, Shine said, "We've been with this president for four months and it has not calmed down, neither for him nor for the media, Democrats and people in his own party. It produces a lot of opposition, and every issue, such as the dismissal of Comey and other things, are exploited politically."

Regarding the source of the information being an Israeli spy in ISIS and the Trump administration leaking the information to Russia, Shine said, "I don't know if it came from Israel or some other state. Cooperation between organizations is very common and you can't handle a phenomenon like ISIS without cooperation between countries. It is true that this comes with rules pertaining to what you are given and how to use it. You definitely don't use intelligence that you received from another source, unless that source gives you permission."

Shine elaborated further on the issue, saying that she doubted that Israel had provided any permission to share its intelligence. However, she also maintained that the divulged information would not constitute any danger.

"According to what was published, I assume that this is not the case, so there is certainly a problem here," she said. "As others said, we have to put out the flames. The United States and Israel have many years of cooperation; we do not want this to be the focus and we certainly don't want this as harmful to anything. As such, I do not think our relations will be harmed."